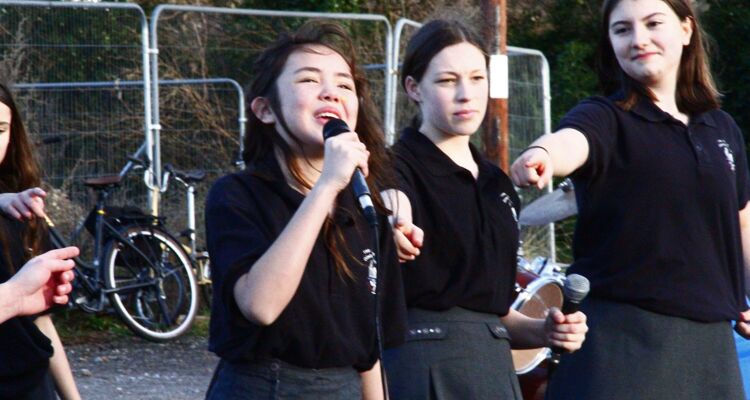 31 Jan 2023
Highlights from Performing Arts
Bridge Opening
By the Barnes train bridge, on Dukes Meadows, a new foot bridge has been constructed to link two sections of the Thames path. As part of the opening ceremony Chiswick School was invited perform, we were also the first people to go across the bridge.
We performed a song, a flash mob and our steel pan band also performed. The song we picked was appropriately "Building a Bridge to your Heart" by Wax which was performed by our performing arts choir. The Mayor then gave a speech to welcome everyone to the opening, and spoke about the process of building and planning the bridge. Then, just as the speech was ending, the music kicked in and "We Built This City" started. At that point our dancers started their flash mob that spread across the gathered crowd and ended up with them guiding everyone down the bridge and towards the ribbon. Once this was cut our students danced down the bridge all the way to end, making them the first people to cross.
We are incredibly proud to have been part of this project and so pleased that our singing and dancing brought sunlight to a grey day.
Chiswick Calendar Awards
We were invited to the Chiswick Calendar celebration, an event that showcases the best of community projects and organisations. The evening was full of the great and good of Chiswick, including local councillors, business and charity leaders, and creative organisations. Part of the evening was an awards ceremony where the best of Chiswick was celebrated for the work they have done over the past couple of years. Organisations such as The Upper Room, a charity group working with the homeless and West London welcome, who work with asylum seekers, were awarded for their work in their respective fields. Then we found out, much to our surprise, that we were also awarded. Chiswick Calendar were particularly impressed by the work we did over the Covid period, and the rapid progression of the school over the past few years. We were also celebrated for our 'Arts in the Community' work, including all of our visual and extensive performing arts. Mrs Ellener and Mr Robinson attended the event and were delighted to be presented with the award.