Welcome from our Head Girl & Head Boy
Hello, my name is Lily Price and it is my honour to write to you as Head Girl at Chiswick School. Chiswick has been my second home for 6 years now and as I enter my final year here I am filled with both angst and excitement. Chiswick has not only prepared me for academic life beyond secondary school, but has given me the tools to develop as a human being in order to survive in the real world.
The teachers at Chiswick have nothing but incredible passion and motivation for students' success. I haven't met a staff member here that hasn't equated my own drive for excellence, with many of them encouraging me to push myself beyond the limits I believed I was capable of. I have such amazing bonds with some of the teachers at Chiswick School which I feel I wouldn't have had at another school.
Despite the struggles of the Covid pandemic, Chiswick has been able to bounce back and continues to provide copious amounts of support, both in terms of academics and wellbeing, which is of great importance to the school; there is never a lack of support from staff when one is struggling.
As for the students, it is evident from the vast number of internal students who stay on to study at Chiswick Sixth Form that our community is of great importance. External students find little difficulty fitting in and adjust very quickly to the new environment due to the welcoming arms of the staff and students. This can definitely be said for the transition from year 6 to year 7 as well.
I can attest that I am not alone when I say that Chiswick has provided me with what I need to succeed; I have learned independence, responsibility and resilience, but more importantly, I have made memories, met people and learned lessons that I will carry with me forever, which is why it is my absolute delight to be Head Girl at this remarkable school.
Lily
Head Girl
---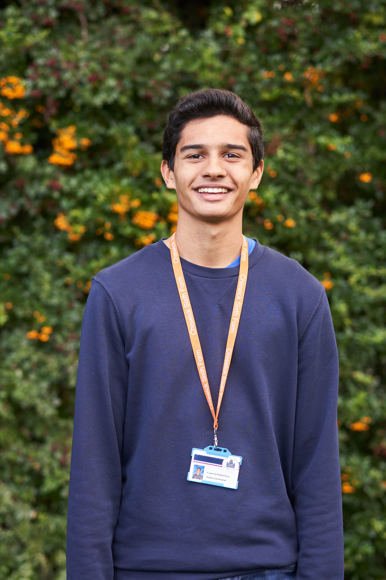 Hi, my name is Cameron Samuel Keys and I am proud to have been elected as Head Boy of Chiswick School.
I have been at Chiswick since year 7 and there is nowhere else I'd rather be. I live in Shepherd's Bush so I had to wait until May when my name reached the top of the waiting list. I am now in Year 13, studying History, Geography and Politics and hope to study Law at University. While the teaching here is outstanding, it is the attentiveness and support from every staff member that sets Chiswick apart. The teachers all work really hard to build fun and engaging relationships while also maintaining high academic standards. Whether they are helping you with your personal statement or seemingly responding to your emails before you sent them, it quickly becomes obvious that the teachers here genuinely care about every one of us.
Outside the classroom, the trips and extracurricular activities will become some of your fondest memories. I still vividly remember the Year 8 Rome trip and our performance of the musical Hairspray; the Summer Arts Festivals and Winter Concerts that allowed me to sing in a band; and an essay competition found for me by the 6th form team that has won me a week of work experience at a barristers' chambers.
Taking on the role of Head Boy is a privilege. Since being elected, I have already visited the Year 7 forms and led team building exercises for a Year 12 form during induction day. I am excited to continue working with both students and staff to make Chiswick School the best it can be.
Cameron
Head Boy