Welcome from our Head Girl & Head Boy
Dear prospective students and parents,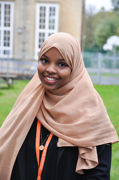 My name is Amira Hassan, I have only been a student at Chiswick School for just over a year and I feel very privileged to have been given this opportunity to represent the school as Head Girl. I am in my last year of Sixth Form, studying English Literature, History and Politics at A Level. I'm currently completing my UCAS application and I hope to complete a Law degree at either Kings College London or Queen Mary University of London.
Chiswick has a fantastic atmosphere in terms of helping you excel academically but simultaneously helps you to develop lifelong transferable skills. During my short time at Chiswick, I have made friends and memories that I will cherish forever. Chiswick isn't just a school but a significant chapter of my life that will follow me down whatever path I choose. It is definitely a place to broaden your minds and grow academically and socially.
I feel very privileged to be able to represent the school because I really believe that Chiswick has taught me so many lessons, not only academic, and that I will carry these with me for the rest of my life. Therefore, I am honoured to give back to the school through this experience. Chiswick School has been beneficial for me largely because of the teacher-student relationships and the fact that the very highest is expected of us.
I have thoroughly enjoyed the extra curricular activities and school trips. I think that the extensive choice of field trips is impressive and something I wouldn't have been able to experience anywhere else.
Additionally the vast amount of support that the students are given with things such as work experience, UCAS and open days is outstanding. It is these features combined that make Chiswick such an excellent learning environment and such a good place to study. I would highly recommend Chiswick as an academic setting to blossom, improve and excel.
Yours faithfully,
Amira
Head Girl
---
My name is Theo and I'm honoured to be the new Head Boy at Chiswick School. I've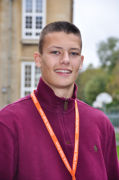 been here since Year 7 and have progressed to the 6th Form over the last 7 years which has been an amazing experience full of fun and laughter. I'm currently studying Geography, History and Politics at A Level. With aspirations to take the next step and go to a university of my choice and carry on studying Geography.
Chiswick School has developed and changed so much since I've been here, my education and attitude to learning has blossomed since being here, but not only that, my general wellbeing too, I've found brilliant support from my friends and teachers. Now I have the opportunity to give back to the school I love, act as support for the younger years and hope to instil change in my last year here.
Chiswick is a school that offers a range of physical and educational extra-curricular activities with the likes of rugby and football, to IT and debate club. Not only the extra-curricular activities but the school trips too. Throughout my time at Chiswick I have had the opportunity to go on many trips like the ski trip, the Rome trip and even a New York trip. These have helpede build a bond not only between the students but between the teachers too and massively enhanced my learning within the lessons.
Theo
Head Boy