Welcome from our Head Boy & Head Girl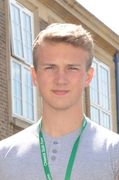 Dear prospective students and parents,
My name is Tobin and I'm proud to be the new Head Boy at Chiswick School. I've been here since Year 7 and have progressed to the 6th Form over the last 6 years which have been a great experience for me. I'm currently studying Geography, Maths and Biology at A Level, with aspirations to go into a career either as a personal trainer or an automotive engineer.
It is a privilege for me to be Head Boy here at Chiswick, as I feel that the school has been so great to me over the last 6 years both in terms of academic progress and in building my personality and character. I feel grateful to now have the opportunity to give back to the school and hope that with the help of the rest of the students, my position will allow me to transform ideas into reality, making many great improvements throughout the school for students, parents and staff.
Chiswick is a school that offers many fantastic services and opportunities. Some of the things that have really stood out for me are the wide variety of trips both academic and extracurricular, such as the South Africa volunteering trip and ski trip. The enrichment and work experience opportunities, as well as the huge amount of technological learning made available by the vast pool of resources at the school, offer great platforms upon which to build.
Best wishes,
Tobin
Head Boy
---
Dear prospective students and parents,
My name is Grace, I have attended Chiswick School for six years now and am privileged to have been given this opportunity to represent the school. I am currently nearing the end of Year 12 and taking English Literature, Geography and Politics at A Level. I'm currently deciding which subject to read at university, and I have aspirations to go to Manchester, Leeds or Durham and then hopefully on to a career in film production.
I feel very privileged to be able to represent the school because I really believe that Chiswick has taught me so many lessons, not only academic, and that I will carry these with me for the rest of my life. Therefore, I am honoured to give back to the school through this experience. Chiswick School has been so beneficial for me largely because of the teacher-student relationships and the fact that we are all comfortable to go to any teachers and discuss any difficulties, whether they be academic or personal.
I also think that this has been boosted through school trips. These are another reason that Chiswick stands out, especially having gone on the South Africa volunteering trip recently; I think that the extensive choice of field trips is impressive and something I wouldn't have been able to experience anywhere else.
Additionally the vast amount of support that the students are given with things such as work experience, UCAS and open days is outstanding. It is these features combined that make Chiswick such an excellent learning environment and such a good place to study.
Yours faithfully,
Grace
Head Girl