Welcome from our Head Girl & Head Boy
Dear prospective students and parents,
My name is Davina and I'm filled with gratitude to be the head girl at Chiswick school.
After an amazing 6 years well spent here, I am in my final year studying A-Level History, Politics and Psychology with ambitions to go to university next year.
During my time at Chiswick, I've learnt imperative life lessons that go beyond just classroom associated skills. The things i've learnt here, I probably wouldn't have learnt elsewhere. Not only does Chiswick push the individual to strive for academic excellence, our school also encourages every single student to be the best version of themselves and that's what truly makes Chiswick stand out.
This is exemplified through a wide range of subjects & extra-curricular activities to ensure that students never feel marginalised and always feel included. Furthermore, the diversity our school holds creates such an inclusive culture where everyone is appreciated and respectful of one another.
In respect to academics, Chiswick is excellent in the way it provides education. Lessons are always interesting and engaging. From your very first day in year 7 up until your last exam, no student can feel lacking in support. It never goes unnoticed how passionate the staff are in creating wonderful relationships.
In addition, Chiswick's resilience to challenging and unprecedented circumstances is exceptional. During the height of the pandemic, the school was able to make sure every student was receiving top quality education despite being in remote conditions.
It's for reasons like these which makes me so privileged to be head girl at such a remarkable school.
Yours faithfully,
Davina
Head Girl
---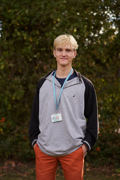 Hello, my name is Tom Gers and I'm proud to be writing this message as Head Boy. I started my journey at Chiswick School in year 7 and whilst I was the only pupil from my primary school to join Chiswick I found the transition was made easy through the support of my head of year and form tutor, a support system I feel is still very much in place even now as I'm approaching adulthood and the end of my time at Chiswick School.
Whilst we are no longer Chiswick Community School by name the shared sense of responsibility for each other is one which is evident in everyday life at Chiswick School, and throughout my time here I have been pushed to excel both in and out of the classroom by both teachers, pupils and governors. Our website says that we 'empower students to be ambitious and proud' something which is achieved without question and is clear when looking at the amount of students retained at Sixth Form.
The saying 'time flies when you're having fun' has become such a cliche, but for my time at Chiswick School no phrase could sum it up better. I remember my interview when I was in year 6 and the friends I made on my first day, visiting Germany, winning sports day in year 9,completing my last GCSE exam and being asked to write this introduction all with a big grin on my face.
Tom
Head Boy