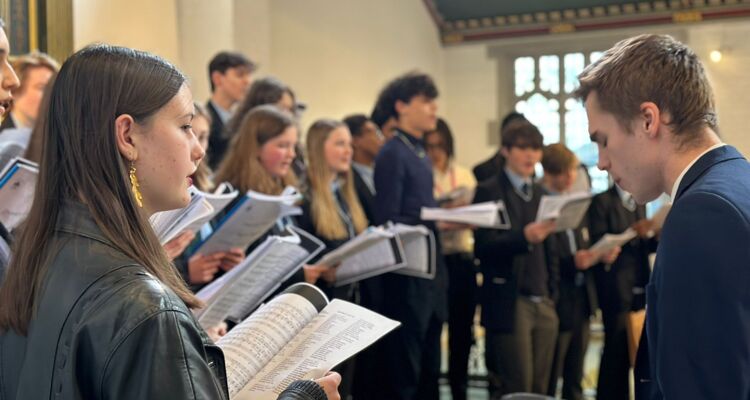 26 Jan 2023
Highlights from Music
Xing and the Backups do full show at City Barge
On Wednesday 25 January, our oldest and longest- serving band, Xing and the Backups, did a full set at the City Barge Pub on Strand on the Green. With a mixture of old classics and debuts of newly learnt songs, it was a highly accomplished set, built on years of work. They opened with Sir Duke with all of the instrumental solos note-perfect, other highlight songs included Hey Ya, Valerie, Sweater Weather, and Babooshka. Olly, egged on by his very supportive father, was ruthlessly accurate in his drumming, Nathaniel and Xing were flawless in the rhythm section, and Zoe, Melina and Aaliyah shone brightly on vocals with some excellent harmonies. In the interval we also had two solo performances from Jean in Year 10 and Josephine in Year 12, who both have very promising solo careers ahead of them.
We're really excited to be returning to the City Barge on the last Wednesday of each month. On February 22nd, we have The Q, on March 29th we have AMMO and on April 26 we have Blue Monday. Hope to see you there.
Mary gains a place on the VOCES 8 future talent programme
Mary P, one of our best singers in Year 11, has been awarded a place on the VOCES 8 future talent programme. VOCES 8 are an award winning vocal group who tour all around the world, and their young artist's programme selects the best singers from across the country to give them experience in high-level choral singing. She sang her first concert with the group on Tuesday 24th January and we look forward to hearing about more concerts in the future.
Chiswick Voices invited to sing a choral service at Somerville College, Oxford
We are delighted to share that Chiswick Voices, our senior choir, has been invited by Somerville College Oxford to join with their choir to sing a service of 'Choral Contemplation' in the college chapel on Sunday 30 April. It is quite rare for schools, and especially comprehensive school choirs to be invited by colleges to sing choral services, and the invitation is a testament to both the hard work Chiswick Voices have put into their rehearsals and performances, as well as the wider partnership established between Chiswick and Somerville over the last few years.
The service is at 5:30pm in the college chapel and is open to the public to attend.