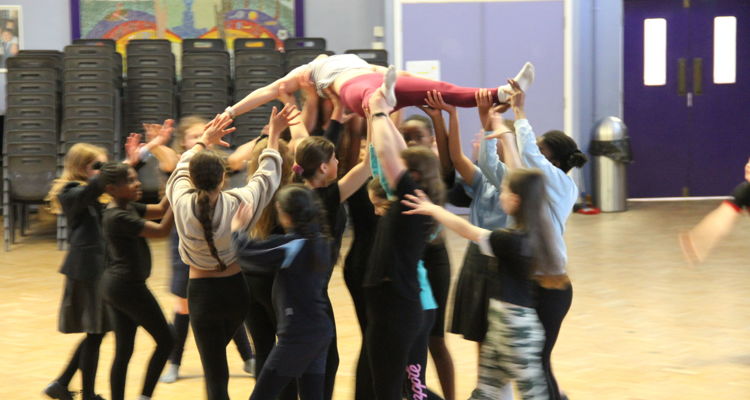 14 Dec 2020
Highlights from Performing Arts
Christmas productions
Although we cannot bring you our normal Festive theatre fare, we are determined to bring you some Christmas cheer with five online performances.
Each year group have been busy over the past few months devising and rehearsing their plays which are due to be broadcast in the week starting 21st December.
Year 7s will be performing their own interpretation of the 12 days of Christmas, in which a young girl, fed up of being told what to do by her Mum, decides to spend all her money (and her Mum's) on Amazon, with hilarious and unexpected results.
The Year 8s will perform four of the best Christmas stories. From the Nativity to the Snowman, Year 8 Performing Arts group will bring you some Christmas cheer in just under 5 minutes each!
---
It's time for our annual school panto (oh no it isn't!)...
Year 10 students are producing a pantomime to perform to one of our local primary schools who will be coming to watch it. We will also film and broadcast it so that those who cannot make it live can still be part of the festivities.
---
Year 12s are performing a play called "Be My Baby".
This is the story of Mary, a nice middle class girl who loves the Ronettes, but has got herself into "trouble". She is sent to the north of England to a convent, so her parents can have it "dealt with". While she is there she makes new friends and discovers more about herself and the real world.
---
Dance Show
In addition to this we are also broadcasting a dance show, the highlight of which will be a feature length version of "Juliet" filmed at Chiswick House. "Juliet" is the story of Romeo and Juliet told through dance from the viewpoint of Juliet. We will be filming this, and other dances, around the grounds and in the conservatory of Chiswick House.
All the students have worked exceptionally hard on these productions, so keep an eye out on our Twitter page @TRobinsonPAs or @ChiswickSchool for details of broadcast times on our YouTube channel Chiswick School Blog.
---
News
We are proud to announce that we have been chosen to perform at the National Theatre Connections Festival. We are the only school in Hounslow to be chosen. We will be performing at The Lyric theatre some time around Easter. The play we have been chosen to perform is called "Like There's No Tomorrow" which is about the issues surrounding the environment and the consequences of man's reluctance to do anything about it. As part of the festival we also applied for a bursary, which we were lucky to win.
We are also in the process of sourcing funding for the show - for our set, costumes, transport and publicity. All the shows we are producing over the Christmas period will have a Just Giving page attached to support us in this endeavour.
We will also be doing a number of other fundraising events between now and Easter.