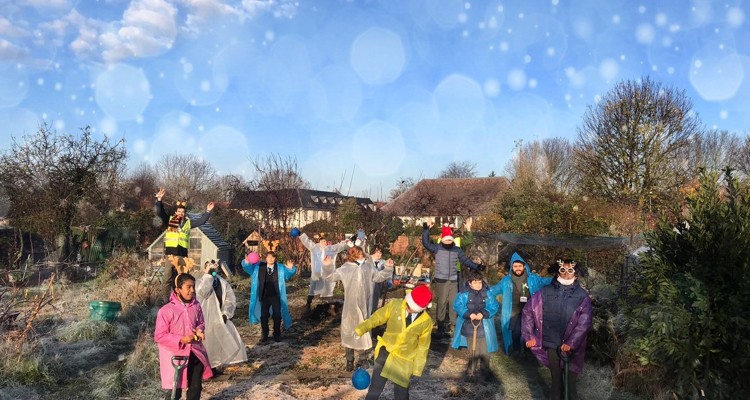 15 Dec 2020
Allotment Update
Students and staff alike have been busy preparing the plot's soil for planting this term. The students' desire to garden every single week despite the rain and frost has impressed staff at Chiswick School and the CHAS community! Mostly everyone has remembered their gardening gloves and have been prepared to get their hands dirty to plant various flowers and vegetables.
Whilst the Year 7 group planted some onion bulbs, the Year 9s planted an array of spring flowers. Miss Ramsden taught students about where these flowers like to grow and the depth at which they should be planted. Hopefully, we'll see some crocuses, snowdrops and daffodils in Spring.
Several lucky Year 8s have also had the opportunity to make their way over to the allotment. Some may have turned their noses up at steaming manure, however they were fascinated by the natural process of fertilisation! They have also commented on how relaxed they feel working on the allotment project and look forward to their weekly Tuesday sessions with Miss Wyatt and Miss Elliott.
It is with sadness, however, that we have to say goodbye to both of these wonderful teachers at the end of this term. Thank you to Miss Elliott who has been helping out with the Year 8s this half term. The biggest thanks of all goes to Miss Wyatt whose idea it was to start the allotment in the first place back in 2018. Her longstanding commitment and leadership will be sorely missed!
Since acquiring Plot 3, the Chiswick School's allotment project has blossomed. Amongst so many other things, Miss Wyatt mapped out the plot, coordinated the numerous weekly sessions (including over lockdown), cultivated, cooked, sold and fundraised for equipment and also developed a real connection with the Chiswick community. Miss Wyatt has brought a love and enthusiasm to make the allotment a place to grow for both plants and students. We hope that as soon as she settles into her new school, she will come back to visit the allotment plot. On behalf of the Chiswick allotment team, thank you Miss Wyatt!