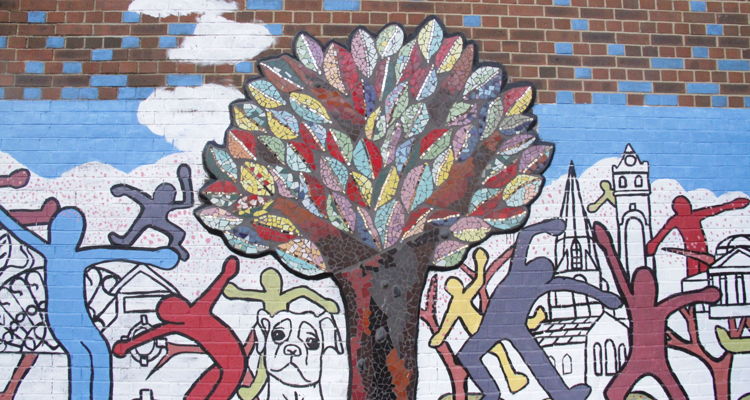 11 Sep 2020
Large 'Lockdown Inspired' Collages
During the lockdown period, Mr Robinson and the students produced three large murals based on their feelings about the lockdown. The students came up with words and feelings that represented their thoughts, and from these we created the pieces.
---
'Shattered'
The students first took photographs of each other and the building, playing with the shutter speed and light to create "blurred" pictures. These represented the idea of the ghosts of the students at the school, and the sense of emptiness that the school had, when it should have been busy.
They then splatted three large canvases with paint, in the manner of a Jackson Pollock action painting. The pictures they had taken were then "shattered" like glass and stuck to the canvases. Both showing how they themselves where "shattered" and how the viewer might feel about looking at a situation that they found difficult to see.
---
'Clap'
The students first looked through newspapers to find positive articles about the Coronavirus. They then made a large collage of them and cut it up into strips.
Once again two large canvases were splattered with paint, Pollock style, but this time with the rainbow colours that have become synonymous with the NHS.
They then cut out our hand shapes from purple, white and green tissue paper (the original NHS colours) and placed these, along with the newspaper strips, over the canvas.
---
'Stay indoors'
A large canvas was painted with thick black glass paint. The students then covered this with paint splatters, as with the other paintings. We then drew houses, each one different to the last one and painted them, purposely in a childlike fashion. These houses were then placed on the canvas as though they were tumbling down a hill, rather like the small pretty villages of Italy. At the window of every house is painted the silhouette of an individual looking out of their homes. The painting shows how each house, although similar, is different, and in each of these homes is an individual looking out, with their own story of lockdown.
---
The paintings will be placed on the wall, once the weather gets better!
In addition to this, we are very excited to receive the news that Abundance London, curators of the 4th Plinth Art Installation by Turnham Green tube station, have shortlisted two of our pieces to be exhibited.
Please like/comment/follow it on Instagram:
https://www.instagram.com/p/CFwqjyyH8-z/?igshid=2vuuxx5s3xqo