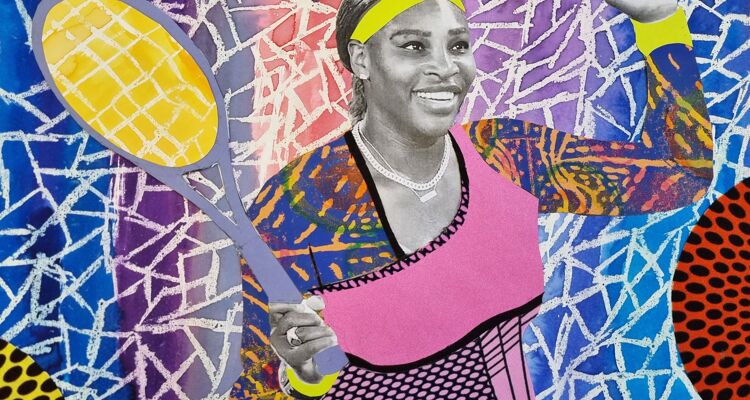 31 Oct 2022
Celebrating Black History Month
Living Out Your Dream
This year's theme for Black History Month was 'Living Out Your Dream'. It was an opportunity for our students to hear stories about Black identity in the achievements of others, whilst also being given the opportunity to explore and express their own dreams through a variety of activities and subjects.
We used the iconic 'I have a dream' speech to create an environment where students understand and appreciate the dreams that people have. We invited guests to the school who were able to tell their stories to our students.
These dreams have been used to pave the way to their success and fuel them with AMBITION.
These dreams have also given them direction and the vision they need to realise them so they stand PROUD of their achievements.
Over the past month, Chiswick students have been celebrating the impact of Black heritage and culture by creating mixed media portraits of historical and contemporary figures. Taking inspiration from the quilted portraits of African American artist, Bisa Butler, and the collages of Nigerian artist Njideka Akunyili Crosby, students collaged together their own zentangle, wax resist and print designs with African Wax Print Fabric to turn their chosen icons into a social statement.
Rapper and Storyteller Alim Kamara opened up to Chiswick School students. "You don't need to be great to get started but you need to get started to be great."
As he continues to expand his company "Storie Storie" Alim talked about the struggles of being a black individual living in today's world.
When Alim was younger, he was already facing many difficulties such as the sudden death of his father. He began to create close bonds with other family members and view many of them as role models, especially his mum, uncles and especially his grandparents. Alim's grandfather is the chief of a village in Sierra Leone and Alim learnt the art of storytelling through him.
At the beginning of the interview we asked Alim about the importance of Black History Month. He replied that when growing up, whenever black history was mentioned, all that was ever talked about was slavery. "When I look in the mirror that's the story I would see, that was the image I would see." And when other people of a different racial background would look at black people or even black history as a while, they'd also see that image. So by enlightening the minds of young people and teaching them about the achievements and successes of black people, it will remove stigmas around certain subjects.
We asked Alim Kamara about what advice he would give to people who are striving to achieve their dreams and he replied to us by giving us an acronym I.P.A.D. The I stands for Identity, to know who you are. The P stands for Purpose, to know why you're here. The A for Acceptance, the ability to accept yourself for who you are. And finally, D for Direction, to plan your work and to know what you want. These key values are fundamental to Alim as it serves a path for him to achieve his goals, and he uses this acronym to teach young people that anything can be achieved if you put the work in and stick to your plan.
Alim Kamara is an incredibly inspirational individual and he takes pride in who he is, so much so that he built an entire career around his culture and the things he loves. He uses his music and storytelling as an outlet to learn more and he admitted to us that he continuously makes mistakes both in his personal life and in his career. Yet he doesn't dwell on these times and he "turns the failures into lessons." He has a constant thirst for gaining more knowledge about his surroundings and loves to spread his newfound knowledge to young people using his talents. Alim continued on to say that the reason why he was sitting in front of us that day was because of his mother. He is heavily influenced by her and owes it all to her and her constant support in his life. "We have no idea what parents go through for us."
We thoroughly enjoyed speaking with Alim about himself, his beliefs and experiences and we hope that what we learnt can be represented in our lives too.