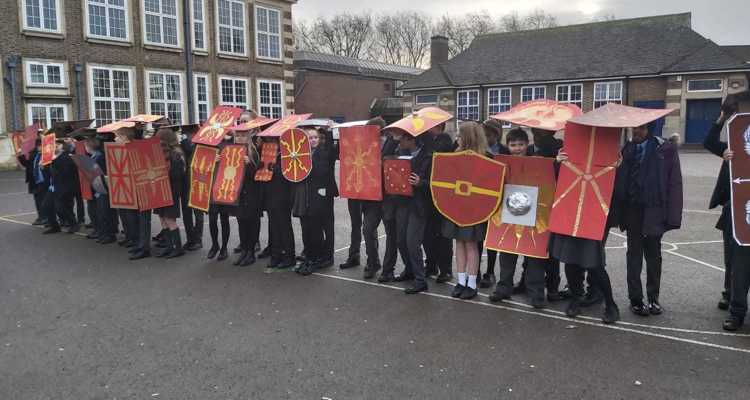 17 Dec 2019
Year 7 Roman Battle
Year 7 excelled themselves in the last week of term during the History department's annual Roman battle! Having spent a fortnight frantically crafting and painting authentic Roman shields, they were ready to learn about the Roman army's successful use of strategy, teamwork and discipline in History lessons. As part of a wider module considering Ancient Civilisations, Y7 enjoyed comparing Roman warfare with the Ancient Egyptians, Greeks, Chinese and Maya.
The long-awaited climax of the term was the Roman battle itself in which X side were pitched against Y side in a competition of discipline, tactical understanding and shield-making! The audience of staff and students were treated to an exhibition of orbs, testudos and wedges, as well as watching some of the best marching we've had in years. Having trained their troops tirelessly, Y7's History teachers awaited the result more tensely than their classes... Empress Ellener and Empress Wilson undertook a troop inspection at the end of the battle, and the final victory went to the smaller but highly disciplined forces of Y side.
We were very proud of all the students who took part and are grateful to have had such an enthusiastic audience from around the school eager to stay and watch. It was a fantastic end to a term of very hard work in Year 7 History.