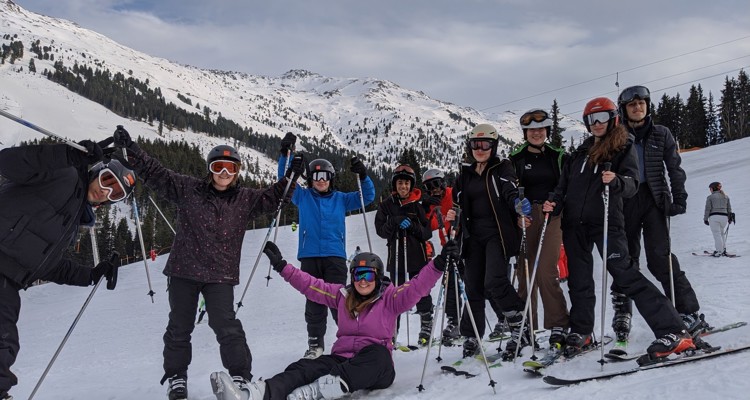 24 Feb 2020
Ski Trip: Hochfugen 2020
Another year, an even better ski trip! We are so lucky to be able to run this trip annually and the staff always look forward to taking 50-60 students on this trip of a lifetime. This year's group travelled by coach (27hrs!!!) to Hochfugen, Austria. This proved to be a very special resort, part of the Ziller Valley, with a huge amount of runs reaching heights of over 2,400m.
We set off on Friday 14th February, arriving late afternoon on the Saturday. Skiing started promptly on Sunday morning and students took part in 4 hours of lessons for 6 full days….exhausting!
There were a range of abilities, from complete beginners to advanced skiers. The advanced instructor was amazed by the level that our students were at, commenting that usually when schools say they have an 'advanced' group they often underwhelm the instructors. Not our students! They smashed all expectations. You may have even seen videos of them on Twitter using ropes to dance on the slopes!
The beginners equally impressed their ski teachers, excelling quickly over the week. It wasn't long before they headed up the gondola to higher ground. They cheered every time a new feat was gained by the group such as no-one falling off the T-bar! The level of care these students showed each other was special to see and new friendships across year groups were formed.
In the evenings, we did a range of activities including a quiz, bowling, pizza evening and going to see a ski show. One of the quiz questions included 'what is the combined age of the teachers on the trip?' One group got it spot on, we're not sure who was what age in their minds but we'll take it! The ski show was at the resort and we got to see our instructors taking to the slopes. There was a combination of fire, neon outfits, fireworks, jumps, flips, quad bikes and parasols. It was fantastic for our students to see this level of quality.
We all arrived home in one piece on Saturday 22nd February, a little tired and in need of some TLC from parents and carers but in high spirits.
Look out for next year's trip, which is soon to be advertised.
Ski Team