ANNOUNCEMENTS
Chiswick Car Boot Sale Needs You!
12 Nov 2021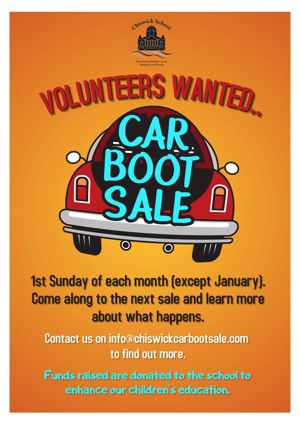 Did you know that Chiswick School hosts a monthly Car Boot Sale that is managed by volunteers from the Chiswick School Community? Did you know that all funds raised by Car Boot Sale are for the school and are used in many ways to support and enhance your children's experiences at school? The Car Boot sale has financed the school mini buses, school trips, equipment….
We rely on parents volunteering each month to make the Car Boot Sale happen and are always looking for new helpers.
Keen to do an early morning shift to help with traffic control, to ensure all sellers are brought into the school grounds and parked safely and in an orderly way? Willing to do a later shift help on the gates, or on site, to ensure the safe flow of pedestrians and vehicles during the Sale? Happy to help with the tidy up after the sale?
These are some of the roles we need assistance with. Without enough volunteers for these roles, we would struggle to hold the Sale. We are a happy, welcoming bunch and would be so pleased for your help. Please email - info@chiswickcarbootsale.com to offer to assist us or with any questions you might have.
Please also go to our website and have a look around and find about the Car Boot Sale and see some photos of the sale in action: www.chiswickcarbootsale.com
Facemasks and sanitising stations will be available on site during the sale for your use, should you need these. Off course we will be guided by Government Guidelines at the time and, as with everything at the moment, we are hopeful that there will be no further changes to these.
Remember, email info@chiswickcarbootsale.com to volunteer!
We very much look forward to hearing from you all soon.