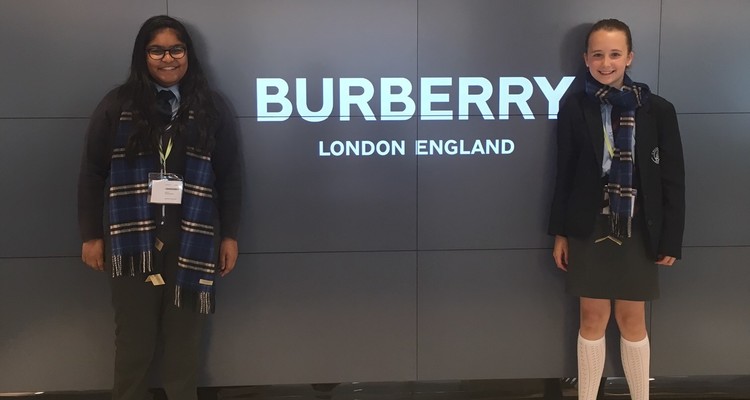 27 Jun 2019
Burberry Competition - Fashion Success
Burberry in association with MyKindaFuture launched a competition a few months ago, setting three design challenges for different age groups.
The 11-12 year olds were asked to design a uniform for the future which would be worn in one hundred years time. It needed to take into account predicted extreme weather patterns and also consider the environment. The 13-14 year olds were asked to develop a capsule wardrobe, again considering environmental issues. The 15-18 year olds were asked to develop a catwalk event again with a theme of sustainability.
Chiswick had entered students work for all age categories and were absolutely thrilled when Emma (Year 7) and Karviya (Year 10) were announced as finalists. As such they were invited to the Burberry headquarters on the 27th June to attend an Inspiration Final Day.
During the day students were involved in a range of planned activities. They heard from guest speakers including Gavin Haig, Burberry's Chief Commercial Officer, and also from members of the product development department. They completed a team work task and won! They also completed a BOM (Bill of Materials) form whilst analysing some Burberry products.
Finally after lunch, they split into the age categories and pitched their idea to the other finalists and some Burberry judges. Both students pitched their ideas very confidently and the judges said it was really tough to choose the overall winner of each group.
After some deliberation the judges announced the winner and to our delight Emma was announced the winner of the 11-12 year old age group. Emma then shared her pitch to an audience of over 100. She was brilliant! The Judges said "We loved the technology, creativeness and sustainability of Emma's design, she really looked at what a uniform could be like in 100 years!"
As finalists both Emma and Karviya were awarded with a Burberry cashmere scarf - AMAZING! Then Emma was also awarded a Burberry rucksack as the category winner - WOW!
Watch out for these talented fashion designers in the not too distant future!
Miss Clarke