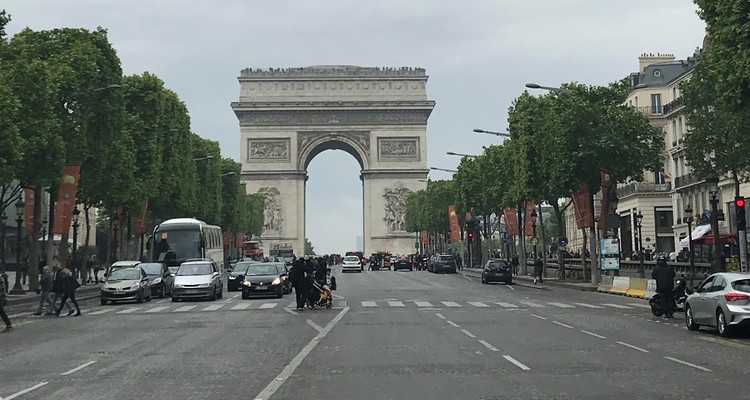 17 May 2019
French Trip 2019 - Amiens, Rue
by Year 8 students - Mia, Megan, Betsy, Olivia
On the 17th May 2019, a group of Year 8 students were given the exciting opportunity to visit France for the weekend! We stayed in the lovely Château du Broutel, a beautiful 18th - Century Château, located in Rue, North of France. Whilst on the trip, we took part in many fun day trips and activities such as visiting an aquarium, visiting a cookie and chocolate factory, and even spending the day in Paris!
At 6am in the morning we all met at school and began our journey to France. We all got on the coach and headed to Dover where we got on the Eurotunnel. When we arrived in France we drove to Nausicaa Aquarium and had our packed lunches, which all the seagulls tried to steal! The Aquarium was amazing! It had many colourful fish, sharks, eels which were stunning. In one area of the aquarium you could even touch the stingray and fish which was crazy; they were very slimy. There were also some seals (les phoques) which were very noisy and there were also penguins which were adorable! At one point in the aquarium there was also a black light room, where you could see the fish in neon colours, however this also made all our clothes glow which was so cool. We then headed to our accommodation where we got settled in our rooms and learnt about some of the history of the place.
On our trip we stayed in Rue at the Château du Broutel. This Château consisted of many acres of outdoor space as well as lots of indoor space. Château du Broutel dates back to the French Revolution and it was even occupied by the Nazis during the occupation of France. This meant that it was full of artifacts and physical historic evidence. The Château was originally a large house built for a rich family. However, as the French Revolution broke out the house unfortunately became damaged due to the riots and events. Luckily, this was then restored by the family. However, once the house had been restored, the Nazis started to take over much of France and the town of Rue, home to Château du Broutel, was invaded. As the house was so big and practical, it became a home to the Nazi soldiers and generals who filled the acres of space that the house provided. As the Nazis settled in, it is believed they built tunnels underground which were recently discovered when underground work took place. They believe this was for easy escape and had many other practical uses. When looking around the house, you can see small signs of graffiti - names can be found etched into the paintwork and we also saw the Nazi symbol on a windowsill. While the Nazis lived there they did allow the family to stay in one small room of the house. Once they had left and the house was left almost abandoned, someone decided to buy it and turn it into a hotel. It was then resold in 2000 when it was bought by the team that own it now and have turned into accomodation for school trips. This is one of the reasons I really enjoyed staying there as it is such a historic place and the large space that it consists of makes it a really enjoyable.
On the 3rd day of our adventure we went on a trip to Paris. Everyone enjoyed a boat ride around Paris and we saw many landmarks. We saw the Notre Dame cathedral, which sadly bore the sign of the recent fire, however it is still very beautiful. We also saw the Eiffel Tower which was amazing as none of us actually realised how tall it was. Of course we all took pictures in front and of it and it was an amazing experience seeing it. After that we stopped off for lunch and "nous avons mangé de la baguette avec du fromage et le chips et une pomme aussi parce que c'est bon pour la santé et j'adore les pommes!" We then walked to the Champs Elysées which was wonderful, and there we got some free time to browse around the shops with our friends. We had 45 minutes and most people bought something to remind them of Paris and the amazing experience we had. Our trip to Paris was so much fun and an outstanding experience.
Whilst on the French trip we all got to try many new experiences such as eating frogs legs and snails (les cuisses de grenouilles et les escargots) as one does in France. Whilst this was very interesting for some people, it also left other disgusted, however it was very fun and amusing to watch everyone's different opinions on the French food. This trip was really fun and interesting and was a great weekend and experience. Overall, what made the trip so exciting was that was the fact that we got to be with all our friends and practice our French in shops together. On the last day where we got to go on a walk around the nearby village and order many things such as baguettes and hot chocolate in French, we said "je voudrais un chocolat chaud, s'il vous plaît!"'.There were great opportunities to practise our French and it was great fun with our friends, which made the experience even more fun.
Our trip to France was a memorable experience for everyone, which I'm sure we will all treasure for the rest of our lives! There was never a dull moment on the trip as you were always busy doing something new and exciting! However this trip would have never been made possible without our wonderful teachers who organised the trip for us and cared for us while away from our families. We had the best time in France and I wish we could do it all over again...merci et au revoir!