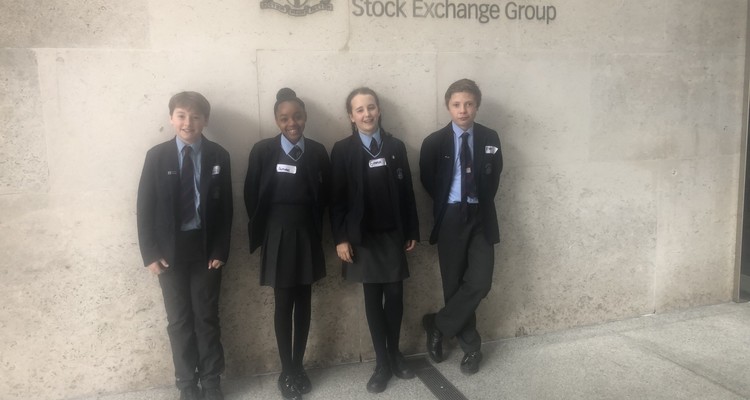 4 Apr 2019
London Stock Exchange Trip
On 4th April four Year 7 students had the honour of opening trading at the London Stock Exchange. This was part of a Hounslow Promise scheme set up and organised by local MPs Seema Malhotra (Feltham and Heston) and Ruth Cadbury (Brentford and Iselworth). It is a new initiative based on the belief that all children are capable of learning and thriving and the whole community shares a responsibility to help young people succeed. Our students, along with students from across Hounslow schools, met at Brentford School for Girls at 6:30 (in the morning!) and got a coach into central London to the offices of the London Stock Exchange. Although a little groggy from the early start Autumn A, Ryan B, Raffy H and Emma S were excited for the morning ahead. On arrival two students from the 40 Hounslow students were selected to officially open the market, and we were very pleased to see that it was Autumn and Ryan from Chiswick who had that honour.
After the opening, the students went to listen and take part in a panel session to discuss the Exchange, entrepreneurship and business in general. The panel included: Seema Malhotra MP; Robert Barnes, Managing Director and Global Head of Primary Markets; Itricia Roberts, International Markets Manager and Umerah Akram, Head of Entrepreneurship. They also met the Mayor of Hounslow, Samia Chaudhary. The students were encouraged to ask questions and engage in discussions with the panel. We were very proud of our students; they were the youngest of all the students there but were confident and asked their questions eloquently. Emma even had the whole panel (and audience) laughing when she asked about any regrets they may have had with their chosen career! The students were given breakfast (which they devoured) and the opportunity to speak with some of the dignitaries after the session. A highlight of the morning was when they were asked to sign the official register to record who opens the market every day. This document is hundreds of years old and Autumn, Ryan, Raffy and Emma are now part of the history of the London Stock Exchange.
It was a thoroughly enjoyable morning, and the students also got to take in some sights like St Paul's Cathedral and Queen Anne's statue, alongside feeling the buzz of being in one of the central business districts of London. Ryan said, 'it was fun and I enjoyed listening to the business people', Raffy said that he 'enjoyed having the opportunity to do something a bit different'. Emma said that 'despite the early start' she 'found the whole experience excellent and really interesting' and Autumn said that 'she was inspired by Itricia' and that it made her 'think about all the different jobs I could do when I am older'. It was a pleasure to take such lovely and engaged children to this event and they did the school proud.
Mr McLoughlin, Year 7 Learning Coordinator