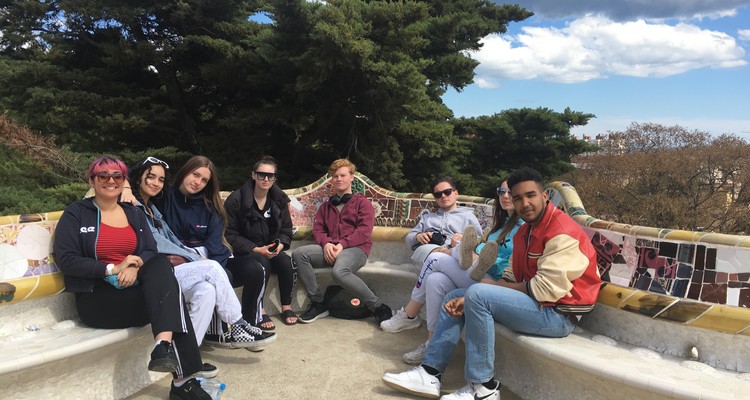 7 Apr 2019
Creative Arts Trip to Barcelona
On Saturday 7th April at 4am, 11 blurry eyed Year 12 students met Miss Clarke and Mr Chavda at London Heathrow Airport. This was to embark upon the first ever Creative Arts Faculty International Visit, with the destination being the creative capital of Barcelona.
After finally finding the correct coach park at Barcelona airport we arrived at our hotel in a great location in Plaça Reial just a stone's throw from the famous Las Ramblas. After a quick change and ditching our bags we departed for Parc Guell, where we enjoyed looking at Gaudi's wonderful mosaics and of course soaked up some of the spring sunshine. That evening, despite having had a very long day, we attended the magic fountain of Montjuïc's. This was amazing and we all loved trying on Harry's light up head piece!
On day two, we took a coach to Figueres and went to the Dali Museum! WOW! What an amazing place and such mesmerising work from this famous surrealist painter. On returning to Barcelona we enjoyed some time after dinner soaking up some of the culture on Las Ramblas.
Day three and we had a lot of walking! We firstly took a stroll to the Beach and played some frisbee. After lunch we visited the Picasso museum and enjoyed seeing the intricacy and detail of his early works, his work was astounding even from the young age of 14. In the afternoon we met our guide and had a walking architectural tour looking at the Gothic part of the city. After dinner in the evening, we decided to attend the BIG FUN MUSEUM! Well it was indeed fun, particularly the mirror maze and Georgia's reaction in the scare room. Miss Clarke got rather worried when we were in the ball pit, she said more than once "this ball pit is not in my risk assessment, be careful".
On our final day after packing all our bags, we took the tube to the Design Museum! This was a great museum, in a really cool building. After that we took a bit of time to go and see the Sagrada Familia and obviously did some shopping before finally heading back to the airport.
Year 12 students