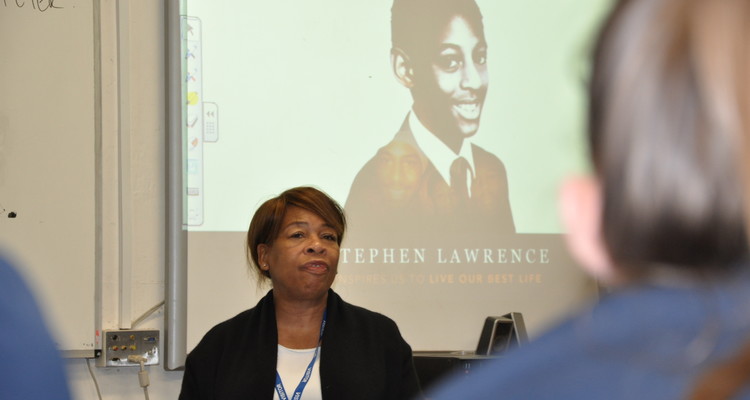 22 Apr 2019
Stephen Lawrence Day
On Monday 22nd April we saw the first 'Stephen Lawrence day' named by the Prime Minister. At Chiswick we believe that this is a day that must be commemorated reminding our students of a story with a tragic beginning which turned into hope and love. Throughout the week we had assemblies and form activities where the students learnt how Stephen's mother and family fought for justice and even changed the law with the abolition of the double jeopardy law. They learnt about the long 19 years it took for justice to be finally served and the lessons this story has taught so many people whilst remembering such a fantastic life taken too soon.
The Drama club created a performance which was shown to Grace, Stephen's cousin, on Friday 26th April. Over 20 students from Years 7-9 had been working for weeks to make sure the performance was well rehearsed and that they dealt with the subject matter with appropriate maturity as it covered topics such as racism and injustice. The students worked with a poem that detailed Stephen's story, how he was killed in an unprovoked, racist attack while waiting for a bus. Whilst one group spoke in choral unison, Stephen's death was re-enacted by a second group of students using mask work. Powerful moments came when the chorus shouted 'guilty' at the perpetrators as they tried to protest their innocence and the piece ended with the strong message that 'underneath the skin colour we are all the same, with bones, brains, hearts and that we are all human beings with a name.' One student reflected on the performance saying:
'It made me really uncomfortable to play such a horrible, racist character and even though I was hidden behind a mask, it still felt wrong. There is no place for racism anywhere and our performance showed that.'
Another staff member commented that: 'I just wanted to say that I thought the performance today was excellent. I've been thinking about it all night and telling everyone around me. You do magical work with those kids, well done.'
Lastly, the performance was attended by Stephen's cousin Grace who was extremely moved by the performance saying it 'brought her right back to when it all happened.' She was full of praise for the students – a definite success for all involved.
Grace then ran a seminar with some students reading parts of her diary as well as developing their understanding of this story further. The students were gripped by the story and her visit asking brilliant questions. There have been many entries to our competition; 'Racism has no place here' which asks students to express their understanding of the story and the message through artwork and poems. #liveyourbestlife