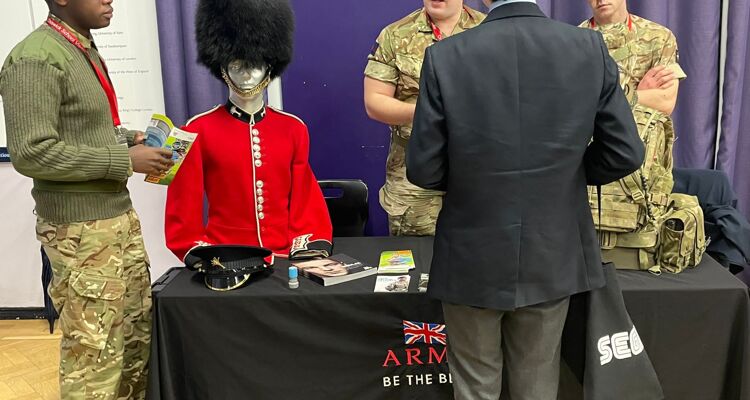 15 Mar 2023
Careers Fair
As part of our commitment to providing our students with opportunities to raise aspirations, develop employability skills and make informed choices about their futures, we held our first on- site Careers Fair at Chiswick School in March. The event featured professionals from a broad range of sectors: from army to finance, media to construction, police to food as well as ambassadors representing Higher and Further education and apprenticeships. Students were prepared for the Careers Fair in their assemblies and form time before the event. They were given a brochure with information about all the companies attending and suggestions of questions to discuss when approaching them to get the most out of the event.
Over the course of the day students in Years 9-13 had the opportunity to attend the Careers Fair to speak to representatives from these organisations about the skills, qualifications and experiences that they need to be successful in further learning and employment.
We were delighted with the event and have had some really lovely feedback from our visitors saying how engaged and well behaved our students were and how much they had enjoyed talking to them.
Mrs Issa, Assistant Head leading on Careers, was responsible for organising the event and said this of its success: "It was lovely to welcome so many exhibitors interested in supporting young people explore the future world of work and I am happy to say that so many of our students engaged so well with this event".
Of the twenty four companies represented at the event, many were impressed by the pupils and the level of engagement they received. Astrid Ley, Enterprise Coordinator at the Education Development Trust, saying: "I have been to a number of school careers fairs and yours was definitely one of the best. Really well organised, students were prepared, visitors were well looked after and there was generally a good vibe."
Diana van Kralingen, Student Recruitment Manager at Bloomsbury Institute London, agreed saying: "Students were very engaged, interested and extremely polite" and is "extremely likely" to attend future events at the school. Jo Killingley, Managing Director of Dot To Dot Productions agreed, saying: "All the children I met were polite and confident. They also had a great sense of humour."
Students were also given stamp cards to help initiate and incentivise those important careers conversations. Students needed to show that they engaged with at least three employers and two from higher/further education backgrounds. All cards were entered into our prize draw.