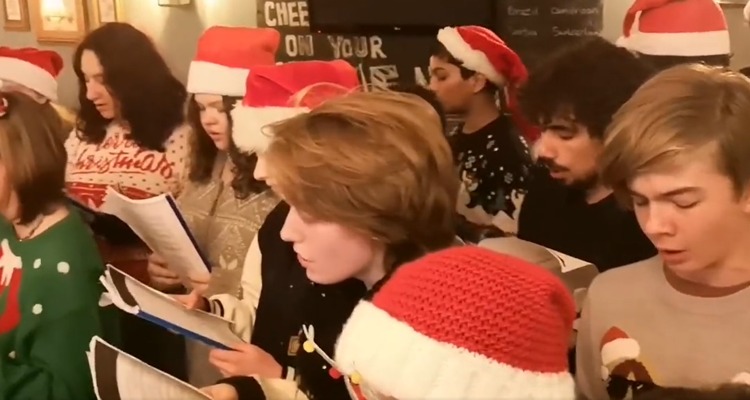 19 Dec 2022
Highlights from Music
A Night with the Q
On Monday 5th December, The Q gave us an unforgettable show in the hall. Spurred on by recent performing successes, they decided it was about time they did their own show rather than being an item in other shows. The final product was astounding, and led to scores of Year 9s screaming in admiration of the band.
The show started off with Kaos and AMMO, two of our Year 8 bands as supporting acts with songs by Imagine Dragons, Mitski and Radiohead, and soon enough The Q were on stage ready to go. Zack and Josh drove the band forward with a rock-solid rhythm section. Jamie and Henry were superb guitarists, both switching between bass and electric, and Henry and Harry were real showstoppers on vocals, with Harry even donning a full leather outfit. Songs ranged from Elvis to Iggy Pop to Slade and even some written by Henry himself.
The evening was also a great opportunity to raise publicity for the National Autistic Society, which they managed to raise £100 for on the night. We look forward to another show soon!
Chiswick Voices at St Mary's Care Home
On Wednesday 7th December, Chiswick Voices were delighted to perform at St Mary's Care Home, just across the road, to spread the Christmas cheer among our local community.
But this was no ordinary drab school choir going carolling… we had lovely four-part renditions of Once in Royal David's City, Bethlehem Down and Ding Dong Merrily on High, while finishing with Rudolph, our Christmas Classic. The audience loved it so much that they requested an encore, to which we happily provided Get Around, a song that never ceases to be requested from us!
Chiswick is proud to be a member of our local community and we look forward to many more engagements even in the month of January.
Steel Pans Perform at Brentford FC
On Wednesday 30th November, the Steel Band had one of their most exciting engagements to date. If performing at Heathrow Terminal 5 wasn't enough, they were asked to play at the opening of the Hounslow Assembly, held in its first year at the GTECH Community Stadium.
While all the delegates were gathering in the hospitality venues to get their early morning coffee, they were greeted by sounds of Ed Sheeran, Imagine Dragons, Justin Timberlake, and Paul McCartney, suddenly scores of phones were swiftly on show as the councillors tried to get in their best shot of the impressive young musicians. After the set, the band were greeted by thunderous applause, and many were coming up to the band afterwards trying to get them booked for their own private functions.
Once the set was over, we had a little moment to sneak into the stands to get a photo of us with the wonderful stadium in the background. We hope it won't be our last trip to Brentford FC.
Xing passes his Piano Diploma
We are very pleased to announce that Xin Yi in Year 13 has just passed his Associate of Trinity College of London Diploma in Piano Performance.
Xing has been playing piano for seven years, and has spent six of those at Chiswick School, making a remarkable rise beyond Grade 8. For diplomas, candidates have to provide a programme of varied material lasting 40 minutes. Xing played Bach's Prelude and Fugue in D minor, Mozart's F major sonata, Shcubert's impromptu in Gb Major, as well as a Chopin Nocturne and a Virtuosic rendition of The Lark by Glinka.
The day before the exam, Year 7, 8 and 9 music scholars were lucky enough to hear Xing play his programme in a private performance in A18. They were utterly spellbound by his technical mastery and are now much more inspired to practise themselves.