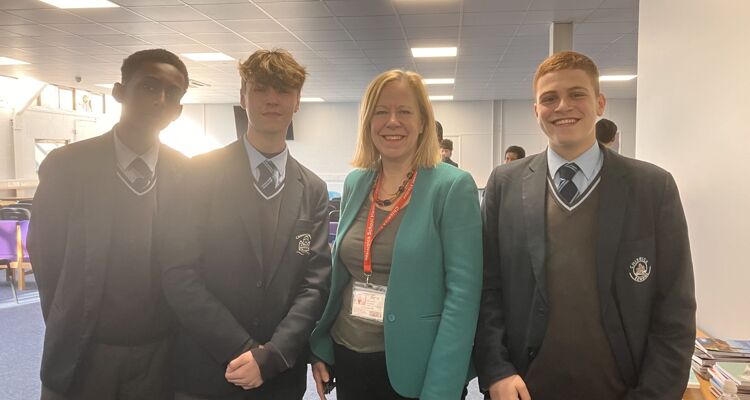 1 Dec 2022
Visit from Ruth Cadbury MP
On the 17th November, we were lucky enough to welcome Ruth Cadbury, our local Member of Parliament for Brentford and Isleworth, to a question-and-answer session with the Year 11 citizenship classes, as well as Year 12 and 13 politics students. There were plenty of well- prepared questions on a wide variety of topics, ranging from voter participation and engagement to her Quaker background, and how that has influenced her political journey.
Ms Cadbury was pleasantly surprised at the articulate, and clearly politically engaged, nature of the questions. She received questions on topics such as nationalisation of the energy companies as well as the state of the economy, which allowed her to speak in detail about Labour Party policies of nationalisation and green growth. She also received questions on immigration and the rise in the use of hate speech by the government, such as Home Secretary Suella Braverman's comments made towards Albanian migrants, which allowed her to talk about the importance and effect of rhetoric used by the government.
Some students considered Ms Cadbury's former role of Shadow Minister for Housing, under Jeremy Corbyn, and current position as the Shadow Minister for International Trade, under Sir Keir Starmer, in order to ask questions on key issues such as whether the Labour Party plans to introduce housing reform or whether they would seek to renegotiate the poor post-Brexit trade deals made by the Conservatives.
The wide variety of thoughtful questions allowed for engaging, insightful, and interesting answers that kept the students wanting to learn more about Labour Party policy, Ruth Cadbury's personal beliefs, and her role as a politician. It was a thoroughly enjoyable and informative session that helped to increase the knowledge and understanding of politics of all those that were present.
-Kalan , Year 12