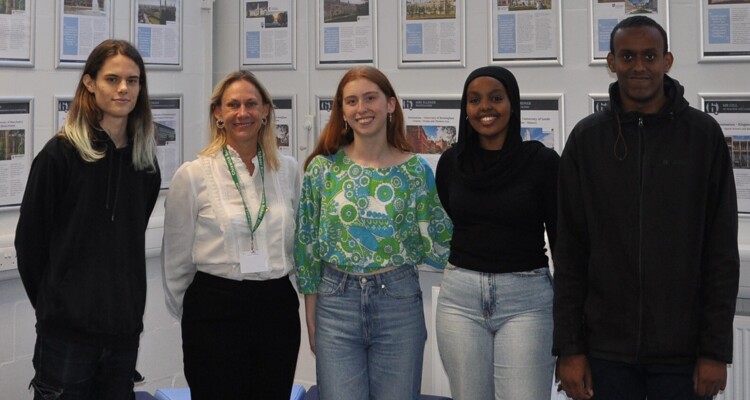 18 Aug 2022
Post-16 Exam Results 2022
Incredible results confirm Chiswick School as a top performer for A levels
Students at Chiswick School achieved astonishing results today with an incredible 46% of A*-A grades and 75% of grades at A*-B which is significantly above the national average. Level 3 Vocational results mirror this tremendous achievement with 61% of Vocational grades Distinction*-Distinction. Set against a national backdrop where results are expected to be lower after two years of record increases, this represents a remarkable achievement for the school.
Students at Chiswick Sixth Form celebrated an outstanding set of A Level and Level 3 Vocational results and have shown that they were up for the challenges of the first set of public examinations post the COVID-19 pandemic. They reflect just how hard students and staff have worked to ensure that excellent outcomes were achieved.
Headteacher Laura Ellener said "students, teachers and leaders have gone above and beyond over the last two years. These results represent this hard work and determination. Our aim has always been to provide students with an amazing place to learn and to become one of the best schools in the country."
On the back of these results, our students' destinations include five students progressing to Oxford or Cambridge plus an array of Russell Group universities, apprenticeships, employment and gap years spent volunteering and travelling. Our Head Students Cameron and Lily, are both heading to their first choice universities in September. Cameron to University of Oxford to study Law after obtaining A*AAA and Lily to University of Manchester to study Psychology after obtaining ABB.
Some other top performers include:
Savvina A: A*A*A*A progressing to University of Sheffield to study Politics and Philosophy
Gwen B: A*A*A* progressing to University of Cambridge to study History
Thalyta B: AAAA progressing to King's College London to study Medicine
Nico C: A*A*A progressing to University of Warwick to study Economics, Psychology and Philosophy
Tom F: A*A*A progressing to University of Birmingham to study Business Management
Oscar F: A*A*A* progressing to University of the Arts London to study Fine Art: Computational Arts
Alex G: A*A*A*A progressing to Imperial College London to study Mathematics
Kirstie M: A*A*A progressing to King's College London to study Economics
Stan S: A*A*AA progressing to University of Leeds to study Mathematics
Rabbi S: A*A*A*A progressing to University of Oxford to study Mathematics
Peter T: A*A*A progressing to University of Bristol to study Economics and Mathematics
Lucie T: A*A*A*A progressing to King's College London to study Neuroscience
Jackson T: A*A*A*A* progressing to King's College London to study Politics
Fatima Y: A*AA progressing to University of Cambridge to study Human, Social, and Political Sciences
Deputy Headteacher, Graham McNamara said, "It has been a very exciting morning as, along with their excellent results, we have received confirmation from our students of their destinations. We encourage them to be ambitious and I am overjoyed with seeing the relentless hard work of these young people pay off. They have embraced every obstacle along the way since Year 11 with grave determination. They have done themselves, their teachers and their families very proud!"