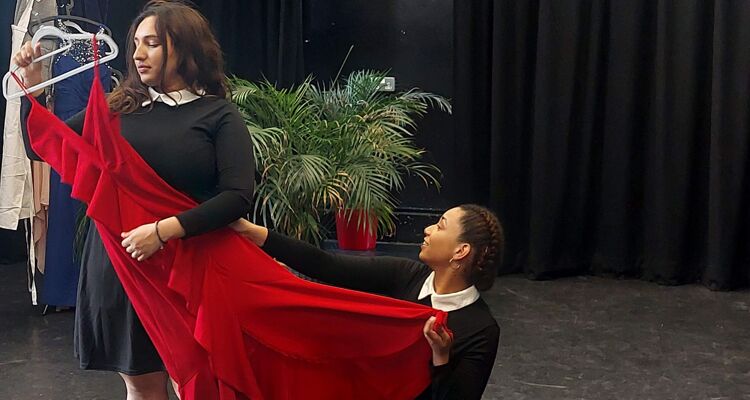 13 Jul 2022
Highlights from Performing Arts
Jubilee Concert
To celebrate the Queen's Jubilee we were asked to perform a special concert at the Steam Packet on Strand on the Green. Emulating the seminal roof top concert (at Apple records HQ by The Beatles), we set up our bands overlooking the Thames.
In all we had five bands performing a one hour set, each one in their own inimitable style. From steel pans to rock bands, each band performed with expertise and flair, to an ever increasingly delighted audience. Unlike The Beatles, however, this wasn't our final gig!
Review 'n' New
The Performing Arts department got together to produce what would be the final show of the year "Review 'n' New". The show was a review of all the great things we had achieved this year, from Oliver to Merchant and the Spring Concert to Love Letters. In addition to this we also presented some new numbers, dances and songs that had never been performed before.
The show was in three acts - Music first with a rousing orchestral rendition of 'In the Hall of the Mountain King', 'Somewhere' from West Side Story on piano, 'Burn' from Hamilton and Chopin's 'Nocturne No. 2 Op. 37'.
Act Two was performing arts, which was bookended by monologues that have been performed this year, including Shylock's "I am a Jew" speech. The Performing Arts choir sang songs from Oliver, Spring Awakening, Matilda and "17" from Heathers among others.
Act Three was given over to dance. We reimagined dance performances from the year including 'Our Lips are Sealed' 'Six' and 'River', as well as introducing new numbers 'We Built This City' and a chair dance to 'Starry Eyed Surprise'.
However my personal highlight of the evening was a stunning performance of 'Vienna' which was played live on the piano with a soloist singer, while three dancers performed. It was both beautiful and elegant.
It was a full show, the students, as well as the parents, were highly appreciative of all the performances.
Summer Arts Fest
What a busy two months it has been for the music department. Since June 1st, we have taken part in 7 full-length concerts, 4 breaktime concerts, 12 studio recordings, and scholarship auditions.
Following the Steam Packet gig already mentioned above, it was clear that our bands are appreciated by the local community, and we had an avalanche of invitations and summer fairs, all of which we accepted!
We started off playing for Chiswick War Memorial Homes' Jubilee Fair, followed by Cavendish Primary School's Summer Fair, followed by the Chiswick Flower Market, followed by Grove Park's Summer Fair, finally landing at our very own Summer Arts Festival on Tuesday 12 July.
That's not all... We are pleased to announce that our first ever school album has just been released. You can listen to all the tracks here at SoundCloud.
This album has taken six weeks of focussed planning, recording and mixing, and particular thanks should go to Olly M, Xing Y, Nathaniel P and Peter C for their dedication to this production. We hope that this is the start of a long lasting tradition at Chiswick!
Even more excitingly, we are excited that we have now awarded our first few music scholarships to incoming Year 7 pupils for next year. It's fantastic to see how many pupils get involved in music, but it has often sadly been hindered by the cost of music lessons. With the help of the PTA and the music department, we have now secured funding to give free lessons for a year to three KS3 pupils, as well as giving financial assistance to six more. We are hoping that this will widen the number of pupils that are able to receive our outstanding musical training, regardless of background.
The Maids - Sixth Form Production
Our 6th Form Performing Arts students performed what was their last play, "The Maids". It is about two maids who work for a rich socialite who blames them for the imprisonment of her lover. They then plot to kill her, but end up killing each other instead.
The students had only been working on the piece for only four weeks, but were more than ready by the time it came to performance. The show was a great success with some outstanding moments of tension between the two actors.
These two students are off to university to study Performing Arts. One to De Montfort to study Performance and Media and the other to the prestigious Royal Welsh College of Music and Drama to study Stage Management. It has been an emotional roller coaster for the students and we wish them all the best for their future in the arts.
Chiswick Flower Market
The Performing Arts department were asked to perform at Chiswick Flower Market, for their special "Pride Festival".
We took along our steel band who wowed the flower shoppers with two numbers, and then handed over to our Performing Arts choir, who sang and performed numbers from famous musicals, as well as a medley of songs from our recent production of Oliver.
The audience grew in numbers as we progressed through the set, until it became difficult for people to get past!
This is likely to become a regular appearance from us, and one that is well appreciated by the people of Chiswick.
Cavendish Primary School Fete
To celebrate the 75th anniversary of the founding of Cavendish Primary School the performing arts department were invited along to perform music, singing and dance.
We sent along our steel band, rock bands, performing arts choir and dancers to entertain the parents and students from the school. We performed for about an hour with a combination of music, dance and singing ranging from rock songs to musical theatre numbers.
The day was amazing and all the students at Cavendish are even more excited to join us in September and get involved in what we do!
Belmont Primary School
Belmont Primary School joined us earlier in the year at our dance showcase, so when it came to them holding their own arts events we offered to go along and help them out. For a whole day we sent our 6th Form Performing Arts students to teach the students about dance and take them through a few routines they could practice for their own performances. The students at the school were all very keen, and it looks like we will have some amazing talent coming up to us in future years.
The students who delivered the workshops were described by the school as "outstanding - a fantastic representation of how well your school facilitates leadership and performing arts. They were both a pleasure and the children loved them!"
We look forward to our next visit in the new school year.
Caucasian Chalk Circle
As part of Arts Week our Year 10 Performing Arts students put on a production of "Caucasian Chalk Circle" by Bertholt Brecht.
The play is about a girl who finds the abandoned child of a rich Governess, brings him up only to find that the parents want him to be returned. It is then down to a judge to decide who has final responsibility for the child.
The cast were amazing, with stand out performances from the two Grushas (young and old) and Azdak (the judge) and the singer who takes us through the story. The ensemble pieces throughout the play held the production together and gave the play a sense of pace, fun, excitement and fear. The play itself is technically a musical with songs scattered throughout to describe the action, however the students had to devise their own tunes for the songs, as Brecht never actually wrote music.
The set reflected Brecht's ideas of circus and spectacle mixed with his ideas on the representations of action rather than place. Bright colours were used among the cast to reflect the circus feel and most of the cast played as more than one character. Brecht is difficult to perform, and can be sometimes dull and repetitive, however the cast gave it their all and produced a unique performance of this famous play.
Year 9 Lyric Theatre Project - Britannicus
A group of Year 9 performing artists had the opportunity to perform at the Lyric Theatre in Hammersmith, as part of the theatre's "Britannicus" project.
The play Britannicus concerns the early life of Emperor Nero and his rise to power, just prior to his infamous burning of Rome.
Our students were asked to devise a short piece of theatre, based on the text, which examined Nero's relationship with the common people, and their perception of him. They imagined what would be the situation if he were alive now, and how he would manipulate social media. The students performed their piece, along with five other schools, on the stage at The Lyric in front of a very appreciative audience. Their conduct and performance on the day was described by the theatre as very professional and creative. Later in the week they were invited back to watch the show, which was amazing! It is hoped that this experience will be a good introduction to the group before they enter year 10.
Arts Awards
Champagne, red carpet, confetti cannons, dinner suits and ball gowns, balloons and an Aston Martin DB6!
This was the inaugural Chiswick School Arts Awards 2021.
Excitement had been high for this event, and no one was disappointed. For weeks dresses had been bought to hand bags and trainers had been substituted for high heels.
On the night everyone arrived in their finest and stood out in the evening sun sipping champagne and having photos taken with their friends and family.
As they entered the room a film of all the dance numbers from the year was playing and already there was a palatable buzz in the air.
As the first presentation film kicked in, Barack Obama announced (not live...unfortunately) that we "gotta support the arts" and support it we did!
During the evening we presented 46 awards for art, music, dance and drama and each time the entire audience erupted with applause and often standing ovations.
We also officially presented Mr Robinson with his teacher of the year award, as well as marking the short listing for Drama department of the year.
Mrs Elenor presented a principal's award for two outstanding students, and a PTA parent handed out 3 Inspiration awards to well deserving students who had shown astonishing commitment and resilience throughout the year.
Then the BIG ONE: ARTS CHAMPION OF THE YEAR AWARD!
This award goes to the individual who has shown not only amazing talent, but also teamwork, maturity, trust and communication skills. They have been kind and generous with their time, and been able to prioritise when necessary. They have embodied everything that we hold dear in the arts, and continue to do so.
This person is, year 10 student - LARA J