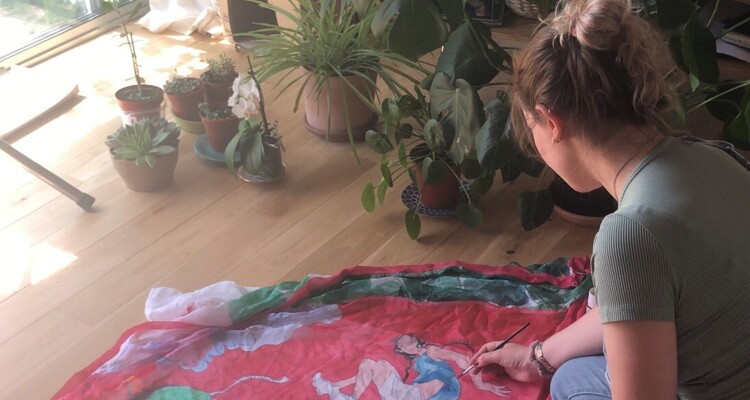 8 Jul 2022
Young Artists' Summer Show
Now in its fourth year, the Young Artists' Summer Show is a free, open submission exhibition for students aged 4–19 studying in the UK. Artworks are judged by a panel of passionate artists and arts professionals, with selected artworks displayed online and on-site at the Royal Academy of Arts.
More than 21,000 students participated this year, thanks to the commitment of teachers, parents and guardians who are championing the role of art in education. The judges were overwhelmed by the passion, insight and skill in the artworks they saw,
Made by students aged 4–19 across the UK, this exhibition is a showcase and celebration of the imagination and creativity of young artists.
We are very proud to announce that Florence Valentin's work is being showcased. Here's what she has to say about her work:
I'm Florence, a student in Year 12, and my acrylic painting "Isolated in the Artificial' is on display at the Royal Academy Summer exhibition. Currently, my work's central themes are objectification, superficial catergeristation and hypocrisy. My work holds up a mirror to the viewer, and creates discomfort at the juxtaposing beauty and cruelty. My painting represents objectification of women, since misogyny places value on appearance and institutions reduce and condition us to be docile and submissive. I painted pet fish in bags because it's the perfect example, since they are literal possession, living creatures turned to accessories. These fish are intangible, in both a literal and symbolic sense. The emotional connection you feel towards your pets is entirely diminished by the cage you keep them in. There's this need to own, which creates prisoners solely because they are desirable. Might I also point out the irony at feeling outrage at animal cruelty while the meat, fish and dairy industries we fund cause the total destruction of your pets natural habitat. As someone who also has pets I recognize the double standards of expressing outrage towards others' cruelty. You should instead turn the lens inward on yourself.