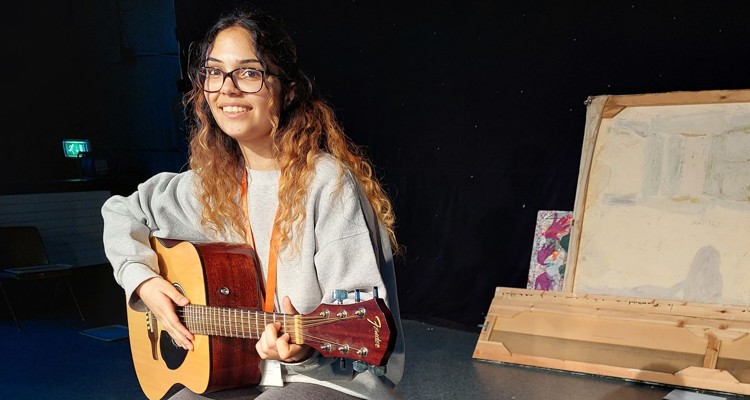 18 May 2021
Performing Arts Update
Donation of instruments to the Performing Arts
About a month ago we were contacted by a generous benefactor who gifted a digital drumkit and a top-end acoustic guitar. The instruments are being used by our very appreciative students and are a much-needed addition to the department.
A few weeks later, we were contacted by another individual who asked if we wanted two three quarter violins; again we accepted them willingly and they are being used by our newly formed quartet.
And then, we got a message offering us a three quarter cello!
We are so grateful for the generosity of our community, who have made it possible for our students to continue to play music. We are always on the look out for instruments, so if any of our readers have any old instruments that are in good condition, we have many students who could benefit from them.
---
Dance at Belmont Primary school
Part of our Summer Festival this year will include a whole dance and song which will involve our primaries. This week our Dance teacher, Miss Knight, started the ball rolling with a visit to Belmont Primary School to teach them an ABBA dance.
We will be going into primaries right up until July to teach each individual group the dance, then get them all together for a celebratory dance and song.
The students at Belmont were very good! From Year 2 upwards all of them gave their all and really impressed Miss Knight with their ability to pick up and perform a dance in such a short amount of time.
---
5 shows in a week
Theatre is back at Chiswick School this summer with four plays and a dance show!
The four plays are being performed by each different year group.
Year 7 are producing an adaptation of 'Alice in Wonderland', with the usual mix of mayhem and chaos.
Year 9 are producing an abridged version of 'A Midsummers Night Dream', with the usual mix of mayhem and chaos; there's a theme emerging!
Year 10 are producing a play from the National Theatre Connections Project called "Like there's no tomorrow". The play is a cautionary tale of environmental abuse, and was to be performed at the Lyric Theatre in March. Unfortunately, circumstances stopped this from happening, so we are bringing the show to Chiswick instead.
Year 12 Performing Arts students are performing Peter Weiss' play "Marat/Sade". It's a dark play that delves into man's inhumanity towards man during the French Revolution.
The dance group will be performing a new piece called "Troy" based on the story of Helen and Paris. In addition to this, they will be performing short group and solo numbers.
It's going to be a very busy week for us but a celebratory end to an otherwise very frustrating year for the Performing Arts.