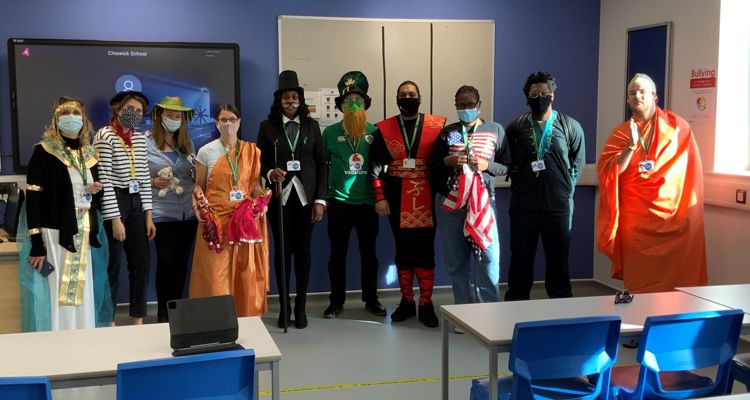 26 Mar 2021
Chiswick School Bookday
This year, students and staff at Chiswick School were busy working online during World Book Day, however, that didn't stop us having our own celebration after the lockdown! Later in March, the school was filled with characters from an enormous range of stories like Charlie and the Chocolate Factory, Alice in Wonderland and Around the World in Eighty Days!
Out of the range of competitions students got involved with, congratulations need to go to Kane Dalton, Nicole Edwards, Sara Sharif and Ishak Mechtoub for finding the golden tickets in their Year 8, 9, 10 and 11 bubbles. The student with the best costume prize is yet to be announced but a special mention has to go to the three Year 7 students who came dressed as one peach from James and the Giant Peach; when you think you've seen it all, a giant peach can always surprise you.
---
All money collected will go to the charity Marcus Rashford has been supporting, FareShare. They provide critical food donations to those at risk of hunger over the school holidays as well as tackling food waste. Rashford has followed his free school meals campaign by launching a book club to help children enjoy the escapism of reading:
"I only started reading at 17 and it completely changed my outlook and mentality... reading shouldn't be for just those who can afford it. We know there are more than 380,000 children across the UK today that have never owned a book, children that are in vulnerable environments. That has to change." Marcus Rashford, Nov 2020
Thanks to everyone who took part. We're already looking forward to next year's event!