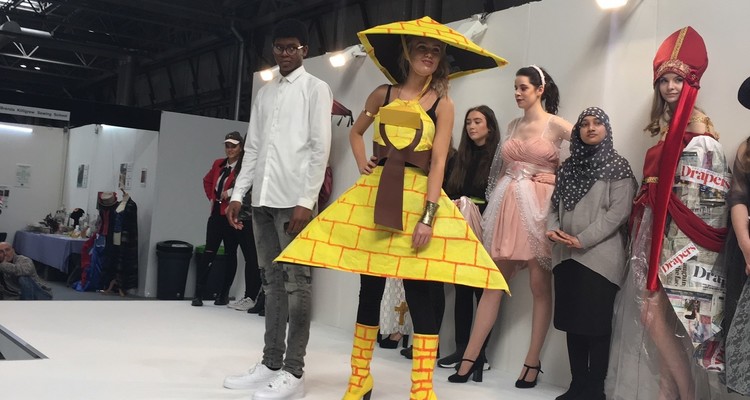 15 Mar 2019
Fashion Competition
On the 15th March, Dante A, Hannah A and Gabriela M travelled to the Birmingham NEC to showcase their garments in the final of the Schools Fashion Icon competition.
You will remember that the year 9 Textiles students all entered this national competition in December, and we were delighted that three students were shortlisted for the final and two students were highly commended for their designs.
Dante, Hannah and Gabriela had from January until March to make their designs come to life. They have been working at lunch times, after school and at home to complete their garments and we were thrilled with the outcomes.
At the NEC, the garments were worn by models and showcased on the catwalk; the students were nervous to walk with their models, but no one would have known! They were all interviewed live on the catwalk whilst the judges made their final decisions.
Unfortunately, on this occasion Chiswick students were not placed, however, the students did exceptionally well to be in the top ten (we were the only school with 3 students in the final) and they received excellent praise from the judges, along with a certificate and a goody bag. The students were all winners in our eyes and we are so incredibly proud of their efforts in the lead up to the event and on the day itself. They conducted themselves brilliantly and were a tremendous credit to the school.
We were also delighted that on display at the NEC was the work of the other Chiswick students who entered the competition. Finally we would also like to say thank you to Mrs Hutcheson, Miss Fares and year 9 students Zoe, Celina, Amira, Anab, Avery, Luka and Sergio who all helped Miss Clarke and the students to make their stunning garments. A real team effort!