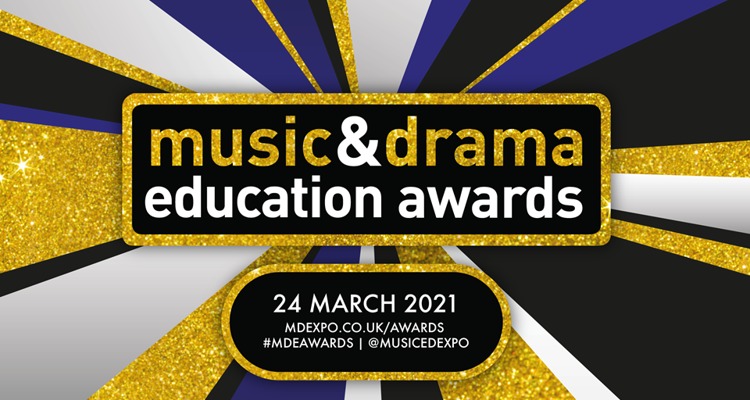 9 Feb 2021
Highlights from the Performing Arts
Finalist in the Music & Drama Education Awards
We are very proud to announce that Chiswick School Performing Arts Department have been shortlisted for the national Music and Drama in Education Award in the category for Outstanding School Drama Department & Music Department.
The Awards are an annual event which celebrates all the great work completed by the Drama and Music departments in the country over the past year. The company, who decide the awards' nominees first, check social media to see what each department is doing, then contact the school and ask for testimonials to support an application. This was completed at the end of last year, with students, parents, staff and the Head of Community Arts, Mr Robinson, filling out the final application.
Comments from parents included: "The shows I have seen have all been wonderful and brilliantly executed. Importantly, all children who show a passion are included in these shows – a huge challenge for the teachers, I'm sure, but this makes the end result even more impressive."
We are being particularly highlighted for our changes to the curriculum, that makes it more inclusive, as our SENDCO wrote: "It has been amazing to see students with a whole range of special needs participating in the opportunities the department offers. Last Christmas, a female student with selective mutism was up on stage in the performance of The Grinch. This was a massive achievement for this student, to be dancing and performing with a group of peers so publicly. We have some very vulnerable students who have struggled with their self-esteem and the department has given them opportunities to recognise their individual strengths and put them into practice whether it be in front of an audience or backstage."
In addition to the the large number of performances we have put on, from Shakespeare to panto, and concerts to dance shows, both live and online, has had a huge impact.
We are very proud to be shortlisted for this award and are waiting with baited breath for the Awards ceremony. The awards will be premiered live at 6.00pm on the 24th March 2021 at https://www.musicdramaedawards.com/ and Facebook Live.
---
Spoken Word Project - Synergy Theatre Company
A short while ago we were approached by Synergy Theatre company with the opportunity to allow one of our students to work with them on a spoken word project.
Synergy is the country's leading theatre company that works specifically with prisons, youth offenders and students at risk of offending or "dropping out" particularly those going through difficult/challenging times.
The organisation runs a range of online creative projects such as spoken word, scriptwriting and acting for a variety of young people. Synergy have been working closely with a student at Chiswick school over the past six weeks and have supported them in writing, performing and producing their own piece of spoken word. Their work was recorded and given to a film editor who turned their creative work into a film which was shared with the Synergy Team and some of the staff at Chiswick school. The synergy team have watched this young person grow in confidence and skill over the weeks and look forward to seeing him progress further!
---
Year 7 Course Work
Year 7s have been working on a piece of course work based on their lives. First of all they had to find some personal items from around their house, then create a mood board based on how these items make them feel. The next step was to design a costume, set and poster for a hypothetical play. And finally they had to explain their play, stating where they would perform it and what style it would be in.
All of the work received from Year 7 was of a very high quality, however one piece by Daisy H was particularly good. We were very impressed by her ability to use her own personal experiences to value her work, and the way she was able to write about her feelings. Her design work was extremely good and clearly showed a potential to move forward as a career.
As a result of this we managed to secure a Google Meet for Daisy with a TV and Film costume designer, who is also a student mentor at Huddersfield University. At the meeting, Daisy was able to ask questions about further career opportunities and how to develop her own work. The designer showed Daisy some of her work, and this was reciprocated by Daisy who proudly showed her own.
The designer was very impressed by Daisy's work, and design acumen, but also her maturity and passion.
Hopefully this will be the start of a glittering career for Daisy!
---
Congratulations for Xing for gaining a Distinction for Grade 8 Piano!
Concert pianist in the making Xing in 11HA has successfully gained a Distinction for Grade 8 Piano with the Associated Board of the Royal Schools of Music. This is a fantastic accomplishment at such a young age. May his success continue. Well done Xing!
---
What an achievement!
Louise in Year 13 has been studying the tuba since primary school. Her passion for music and love of playing has been fully rewarded. She has successfully gained a Merit for Diploma in Practical Music! Brilliant Louise!
---
Well done Freya!
Well done to Freya in 10CH who features in the latest edition of Dancing Times.
Freya has been training as a ballerina for nearly 13 years and currently trains with Masters of Ballet and The Royal Ballet School. Her dream is to be a professional ballerina and be part of a Ballet company. We wish her all the best.