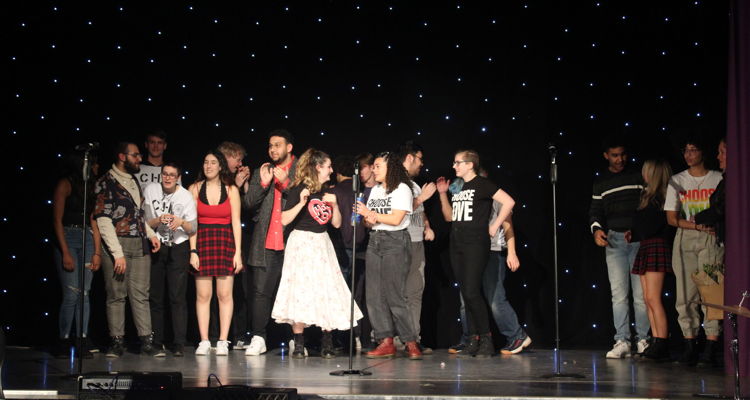 26 Feb 2020
Cabaret Show in aid of 'Choose Love'
On Wednesday 26th February, the 6th Form welcomed 100 guests to a Cabaret to raise money for Choose Love, a charity bringing humanitarian aid to refugees.
An online auction had already been receiving bids for items generously donated by parents and local businesses. Items ranged from a Sipsmith distillery tour to Brentford football tickets, a month's family membership at Roko Health Club, £100 to spend at Little Bird cocktail bar, yoga classes, alternative therapy treatments, Emma Bridgewater products and theatre tickets - even tickets to The Jonathan Ross Show. At this time, the auction has raised over £1500!
The school hall was transformed into a music venue for the evening and the vibe was welcoming and exciting. Students and staff took to the stage to bring an eclectic mix of sounds on the theme of Love. The audience was treated to singing, poetry, music and dancing introduced by the in-house DJ, Mr Ryan Arnott. The performance started with a four song medley; this was an arrangement written and conducted by Louise Martin of Year 12 with three singers and a four-piece band.
The evening moved through the musical decades from the 1950's with the Frank Sinatra hit 'Fly Me to the Moon' to the present day with songs from Lauren Jauregui and Lewis Capaldi via the Phantom of the Opera. Our Head of 6th Form impressed an appreciative audience with an Amy Winehouse inspired rendition of 'Our Day Will Come'.
The audience have been sending their thanks to the school confirming that the event was 'excellent' with some comments including:
'The whole evening was full of warmth and spirit.'
'The very talented students made the evening very moving.'
'What a wonderful evening, altogether exhilarating.'
This publication has heard a rumour that another Cabaret is planned for July!