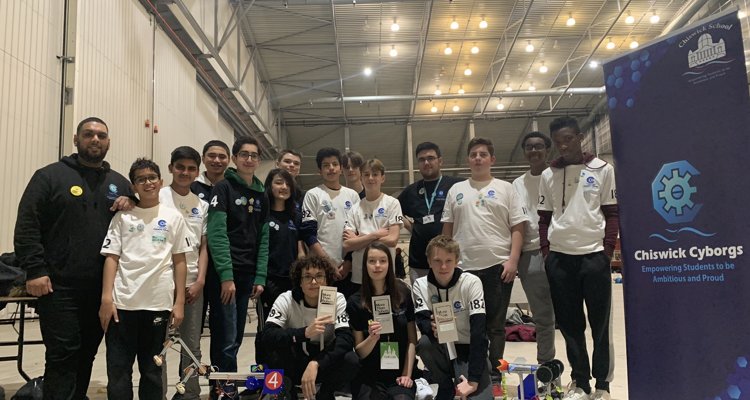 27 Feb 2020
STEAM
KS3 Science Club
We had an exciting term of science club practicals! The Year 7s and 8s loved the scribble bots, fire writing, making strong electromagnets, colourful flame tests, sticky slime and DIY swirly tie-dye t-shirts. Thank you so much to all of the science teachers and technicians who help to run the club every week after school.
---
Year 4 Belmont STEAM Day
We were delighted to welcome Year 4 students from Belmont Primary School on Monday 10th February for some special STEAM lessons to coincide with their school STEM week.
There were three sessions on offer: Smart Materials with Mrs Robjant, Keyrings with Mr Richardson and Computer Science with Mr Mahon.
In the Smart Materials session, students looked at a range of smart materials that can react to external stimulus without human interaction, for example thermofilm. Students then used polymorph, thermocord and UV beads to create a wristband.
In Mr Richardson's session, students used acrylic plastic to make a keyring; they needed to work hard to make the plastic smooth using a file and wet & dry paper.
In Computer Science, students built games through coding. They also got to have a go using our robots from the Chiswick Cyborg group.
We really enjoyed having the Year 4 students and hope they come back to visit us soon!
---
Year 7 STEAM Day
On 12th February, we welcomed a host of volunteers from Ecoworld Construction, TFL, Price Industries, Thorpe Park, Glaxo Smith Klein, Thames Water, Rail Bombardier and Ipsos Mori to help support students with their Thorpe Park Rollercoaster Challenge STEAM event delivered in association with SPARK. One of the volunteers was a former Chiswick School student!
Students started the day in the hall learning about Thorpe Park, finding out what their challenge would be and deciding upon a logo to represent their very important team name. They needed to consider many aspects of the challenge, including marketing, finance, design and safety.
Students then had two hours to create a model of their new rollercoaster as well as creating a 'pitch' to showcase how they would market their rollercoaster to ensure its success. Following a quick practice, students pitched their attraction to the volunteers and one team from each form was shortlisted for the grand final.
The final took place in the hall during period 4 and the energy was electric. Students were superb supporters of one another and really helped to create a great atmosphere. The winning team was FLAME THROWER and they will have a trip to Thorpe Park in the summer term for a day of fun!
Well done to all students for a great event! Here are some photos from the day…
---
Chiswick Cyborgs Success
Chiswick Cyborgs were back for the second year running competing in the First Tech Challenge 2020. The Cyborgs have grown in numbers after last year's inspiring team and now have two teams and two robots competing.
The First Tech Challenge is a worldwide robotics competition that involves teams being tasked to design, build, program, and operate robots to compete in a head-to-head challenge in an alliance format. Guided by adult coaches and mentors, students develop STEM skills and practise engineering principles, while realising the value of hard work, innovation and working as a team.
The Chiswick Cyborgs, a team of students from the sixth-form, Year 11, Year 10 and Year 7, worked daily on their robots in preparation for the tournament with support from the Head of Computer Science, Mr Mahon. Whilst the Cyborgs found it difficult to start off they eventually found their way and worked together to build two amazing robots that were very successful at the regional tournament - competing with 36 schools.
They were placed 1st and 9th in their division and won the final of the division to qualify for the nationals at the end of March. They came 4th & 5th out of 36 teams and picked up 3 trophies on the way: two finalists trophies and the Collins Aerospace Innovate Award for the unique design of a middle wheel to help the robot move sideways. The team also managed to pick up two further awards for challenges on the day with one being the programming challenge completed by Isley (Year 10).
This was a fantastic achievement for the Chiswick Cyborgs and the school. Participating in such a prestigious competition has greatly benefited the students and they have progressed from the high standards set last year. Chiswick Cyborgs will continue the journey, competing at the end of March against over 100 schools with a chance of going to the World Championships! For updates on our journey, follow us on Twitter and Instagram @ChiswickCyborgs.
Project Manager, Zoe, reflected on the experience, saying: "I have learned key leadership skills that will definitely serve me in the future along with a passion to succeed."
Adham said: "This was an amazing opportunity for me to work on my engineering skills and work with older students. I also enjoyed presenting an award and being a commentator at the event!"
Andy, Project Manager, added: "I have built confidence during this process and also enjoyed working with other schools at the event."
Arafat, Driver, said, "I have really enjoyed being a part of the Chiswick Cyborgs and being able to drive our robot during the challenges. I have learned problem-solving skills and also improved my communication in the process."
Emma, the Marketing Lead, learned "a lot of communication skills" and feels more confident in giving speeches.
Mr Mahon, Head of Computer Science and staff lead for the Chiswick Cyborgs, said: "I am immensely proud of the teams; they have surpassed my expectations. It was definitely worth waking up at 4am to see them celebrate their success at the end of the day. We want to thank the PTA who gave us a contribution to support the club."
---
Year 9 Safer Internet Conference with Ofcom
Sixteen Year 9 students recently took part in a conference related to safe use of the internet from a young person's perspective. The work is in conjunction with Ofcom, the UK's communications regulator. At the conference students told staff from Ofcom what the biggest advantages and disadvantages were regarding internet use.
The idea was to help adults understand the ways in which children are using the internet and the focus is on Year 9. On the day, they heard from children about their online activities in the context of their daily lives - the types of things they do and why. The conference allowed the adults to get a child's-eye understanding of the online world and its importance, what benefits they get, what they think are the pitfalls, and how things could be improved from their perspective.
The second session is coming up where the sixteen students will be narrowed down to six. These students will then represent the school in front of Ofcom stakeholders – including parliamentarians, ISPs, social media companies and the BBC. This final event will take place on 24th March at London Docklands Museum where four schools across the country will come together to share their ideas.
As one of the four schools nationwide to have this opportunity, we are super-excited and geared-up to make all the stakeholders listen - so that we can make the internet a safe place for all people that have access to it.