The aim of the music department is to produce musicians who are musically literate and will be able to contribute musically to society, regardless of their prior standard.
We teach students the key knowledge they need to be able to perform, write, and perceptively listen to any music that they encounter.
Particular emphases of our curriculum include:
Everyone performs regardless of musical background

Memorisation of music where possible

The ability to analyse music while also emotionally responding to it

Awareness of the wider musical community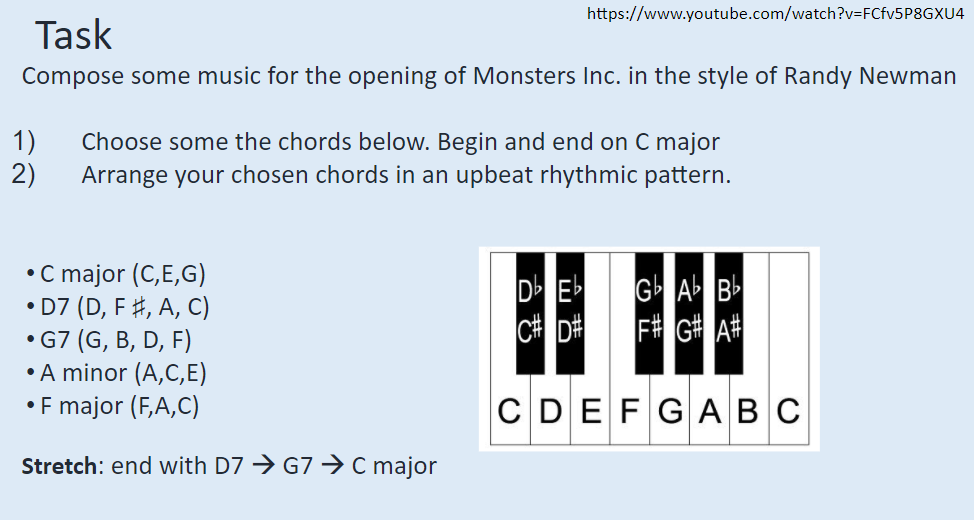 At Key Stage 3 we study a range of musical styles. This is included the following modules:
Introduction to the piano

Composition for film (see adjacent slide from a recent Year 7 lesson)

Grades 1 and 2 theory

Hamilton and its contexts

Richard Strauss and the Alpine Symphony

A Guide to the Orchestra

Music History from Baroque to present day

Jazz and Blues from 1890-1940

Introduction to Samba music

Ear training
Key Stages 4 & 5
We offer the Edexcel GCSE course, which trains students to be perceptive listeners, confident performers, and creative composers. Students will write two pieces of music, and perform a solo in musical events throughout school.
We also offer Edexcel A level music, which stretches pupils' musical capabilities even further. Students have more freedom to specialise in styles of their choice, and have increased privileged access to teaching and trips.
Concerts and Performances
The enrichment opportunities the Performing Arts Faculty provides are imperative in contributing to the development of a responsible, determined and holistic learner.
Every year we have an October Showcase Concert, Christmas Concert, Spring Concert, Spring Musical (this year we will be performing Oliver), and the PTA Summer Arts Festival. Alongside this, we run breaktime concerts every Wednesday during break. These are a fantastic opportunity to get to grips with performing in a smaller, more intimate environment and many of our best musicians use these slots to prepare for larger performances, alongside those who want to try performing for the first time.
We have many outstanding musical groups. There are four official school bands, selected by musical aptitude and potential who receive weekly coaching by a member of staff. As well as this, we have an outstanding Steel Band, an Orchestra, a composition group, a music theory group, a junior choir and Chiswick Voices, our auditioned choir made up of the best singers from all ages in the school.
Music Staff
Mr. Z Moxon
Mr. Moxon teaches KS3, GCSE and A level music. He studied academic music at the University of Cambridge, where he was a Choral Scholar and Assistant Musical Director of the King's Men. He then won a scholarship to the Royal College of Music studying bassoon with Joost Bosdijk and Sarah Burnett and has been a freelance musician since. He runs the Orchestra, Theory group, Chiswick Voices, as well as various other bands.
Mr. S Dubois
Mr. Dubois teaches KS3 and coaches many groups, including our Steel Band. He has been playing the steelpan for nearly 30 years and plays and tours all over the globe with his own band. He is also a regular with notable jazz artists such as Courtney Pine, Denis Rollins, Aron Ottignon just to name a few. He mostly plays songs in a jazzy style with a touch of the Caribbean.
Ms. N Phillips - Piano teacher
Mr. M Coulton - Violin teacher
Mr. A Everard - Guitar teacher
Ms. C James - Singing teacher
Mr. S Eastmond - Brass teacher
Mr. S Ashton - Woodwind teacher
---
Please click on the links below to view the 2021-22 Curriculum Maps for Music.