Eco Ethos Statement
Hi! Welcome to the Chiswick School Eco Team page.
Our Goal is to help make Chiswick School more eco friendly and sustainable; not just for us, but for our local environment in general.
---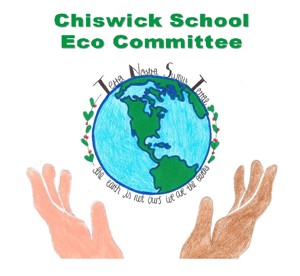 Our targets for this year include:
Implementing red recycling bins (plastic and cans)
Stopping littering
Planting more trees/plants
Creating places for friendly critters to live, including bird boxes
Saving electricity across the school
Chiswick School is working towards creating an environmentally friendly experience for all students. Have a look through this page to see what we have done/are doing!
Written by Demi, Rosa and Sofia. Signed by the rest of our Y9 team.
Summary of Eco-Team activities
Working with KS3 students at the allotment, developing practical skills such as gardening, building and teamwork; whilst learning about agriculture and environmental science
Giving badges to recognise student's pro-environmental initiative
Meeting with SLT to share student views on environmental issues
Performing a student-led Environmental Review of our school, developing an Action Plan to improve our environmental impact
Holding Committee meetings where students, staff members, parents and governors are invited to attend
Writing articles for the school newsletter promoting environmentalism and showing the school our progress
Participating in events, such as a Model UN Climate Conference and pollution monitor construction
Promoting nationwide environmental events such as no-car day
Acquiring new resources for the school such as recycling bins for classrooms and larger red recycling bins (thanks to the PTA).
Links to our work
Eco Activities and Evidence May 2019 - October 2020
Eco Team and Committee Meeting Minutes