Welcome to the Creative Zone
---
Welcome to the Creative Zone. If you would like to complete this work it is entirely up to you. Subjects have designed this project work to keep you busy and we hope that you enjoy exploring the site. 
---
Please click on the expandable sections below for further information and resources.
ART
Please click on the links below to view a selection of Art tasks for you to enjoy.
DESIGN & TECHNOLOGY
DANCE
To keep you active during this period why not give one of Miss Knights dance routines a go.
They are very simple and can be followed by anyone, young and old. We will be updating then every week with a new dance.
Why not film yourself once you have completed some can see the results.
Good luck, and dance like no one is watching!
---
DRAMA
ENGLISH
Chiswick School Audiobooks
Listen to our introduction to our English Departments Audiobooks by clicking HERE
You can also access our AudioBook folder by clicking HERE
INFORMATION TECHNOLOGY (IT)
Please check this section of the website regularly as we are in the process of creating exciting resources for you to enjoy.
MUSIC
POETRY
Chiswick Book Festival
Young People's Poetry Competition 2020
A competition to encourage young people to enjoy creating their own poems.
Many thanks for your interest and participation in the Chiswick Book Festival Young People's Poetry Competition. We are excited that this year is our 10th anniversary.
In these difficult times as schools are online now and probably will remain so for quite a while, many arrangements have to change. As St Michael's and All Angels Parish Office is currently closed, we are only able to accept emailed entries, whether these are from individuals or classes (sent in by a teacher or school librarian.)
All entries must include the correct entry form (individual or class entry) available on the website below.
We need the following information with every individual and class entry (not on the front of the poem): writer's name, year group, poem title and school. Full rules are available on the website too.
The deadline for entries is Monday June 8th 2020. Each child, aged from 8 to 12, may enter one original poem on any theme of their choice, up to 25 lines long. It must be their own unaided work.
Email entries to: children@chiswickbookfestival.net
Full details, rules, entry forms and selected 2019 winning poems available on: http://www.chiswickbookfestival.net/speakers-2020/young-peoples-poetry-competition-2019/
NB. The rules may still say that you can post entries. This is not the case. All entries must be sent by email.
The judging team looks forward to reading your poems.
---
Poetry for Heroes
Whilst we are still facing further weeks of lockdown, we have set up a competition asking everyone to write a poem about this time of lockdown/coronavirus and what it means to you! These poems can be long, short, a haiku, a limerick, a stream of consciousness, anything you like!
We will be asking everyone to send their Poems in to the @poetryforheroes Instagram page, however the competition is in collaboration with Knight Frank. 5 lucky people will have their poems chosen and they will be featured on their Instagram page with nearly 100,000 followers!
This competition will be raising money for Barts Charity. This NHS trust covers the Nightingale Hospital as well as a further 5 hospitals.
Please click on the link for further information - https://bit.ly/2RJSmeG
PHYSICAL EDUCATION (PE)
Please check this section of the website regularly as we are in the process of creating exciting resources for you to enjoy.
PSHE
RELIGION & PHILOSOPHY (RP)
SCIENCE
SUSTAINABILITY PROJECT
TOUCH TYPING COURSE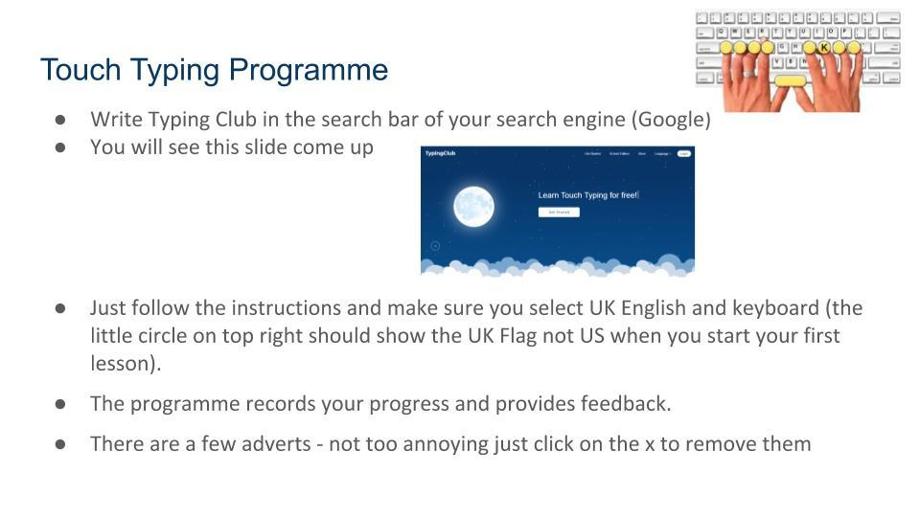 USEFUL WEBSITES
Theatre
---
Science related
Sport related
---
Humanitarian
---
Storytime
---
Blue Peter Badges
---
Wellbeing
---
Kindness